Major clash between government partners as president stripped of MP status
ERC accepts suspending Torra to avoid "risk of blocking parliament" while JxCat rejects it, warning of executive's "risk of collapsing"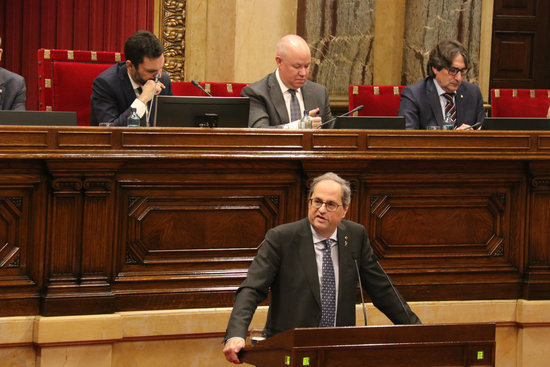 The Catalan government is stumbling. The reason for the latest major discrepancy between Junts per Catalunya and Esquerra is President Quim Torra's status as MP.
The Catalan parliament's top public servant, Xavier Muro, gave the order to withdraw Torra from his position as an MP on Monday morning – this followed the electoral board ordering the chamber to execute its ruling on Torra, which was later greenlighted by Spain's Supreme Court, despite him having a disqualification (pending appeal) from public office.
The parliament bureau, chaired by Esquerra's Roger Torrent, did not oppose Muro's move in its meeting in the early afternoon, despite Torra's party Junts per Catalunya rejecting it.
Given that Muro's order has not been contradicted by parliament speaker Torrent, Catalan News understands that the chamber accepts Torra is no longer an MP.
Speaker confirms Torra has no right to vote in chamber
Indeed, in a statement opening the plenary session on Monday afternoon, speaker Torrent said that Torra's vote would not be counted during this session. "Otherwise it would mean paralyzing parliament."
"We, the parliament, will fight to revoke the suspension," added Torrent, describing the electoral board's ruling as "unfair."
Immediately afterwards, Torra made a statement in the chamber, rejecting parliament's move: "I hope parliament reverses its decision, otherwise institutions will be put at risk."
Yet, this does not mean that the president is being stripped also as Catalonia's top authority, or at least not so far.
After Torrent confirmed that Quim Torra would not be able to vote on any parliamentary motion, Junts per Catalunya announced that they would not participate in any vote in the chamber today as a form of protest.
Their motion on the parliamentary budget was then rejected with zero votes in favour.
Around 6 pm, speaker Torrent adjourned the plenary session until next week.