President after hearing: 'Spain tramples on most basic notions of democracy'
Quim Torra calls his potential ousting an "absolute irresponsibility" and blames judges for any future consequences of their decision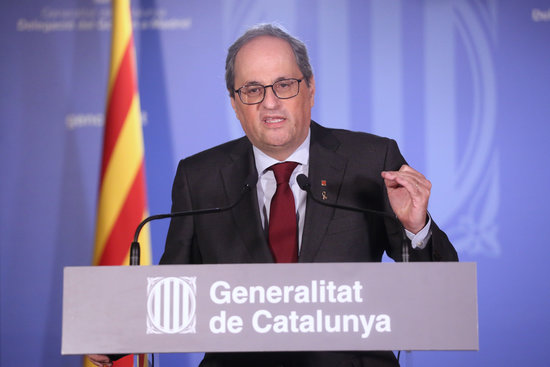 "We live in a state that tramples on the most basic notions of democracy, justice and fundamental rights due to an authoritarian dogma that defends the indivisible unity of their fatherland." This is how the Catalan president, Quim Torra, reacted in a statement after the hearing over his disobedience case before the Supreme Court.
Spain's top judges will soon decide whether to uphold his disqualification, ordered by Catalonia's high court last December. If so, he will be ousted from power for failing to remove signs in favor of the jailed pro-independence leaders on time during an election campaign in spring 2019.
In the same vein as his defense during the hearing, he said that he will not be disqualified "for any old banner, but for a banner that defended the fundamental rights" of the jailed and exiled politicians and activists.
The role of judges
In a statement in the Catalan government's office in Madrid, Torra said that barring him from office would be an "absolute irresponsibility." Indeed, he blamed the magistrates for any future consequences of their decision in Catalonia, beyond his removal from the top post.
"These magistrates today hold in their hands something much more important than my political future."
"Our lives are subject to the greatest arbitrary court decision of recent times, as the full weight of state apparatus has moved into action to prevent the success of a peaceful, democratic project," he added, referring to the independence push.
Impact for Spain and Catalonia's future
"The attitude shown by the Spanish state towards the Catalan independence movement over the next few months will set the moral and ethical foundations for its future," Torra expressed. "Without a firm and urgent rectification, Spain will seal its failure as a modern European state."
Torra said that the verdict to come from the Supreme Court "is an opportunity for the Spanish State to seize or ignore."
"But it needs to be fully aware that it cannot hold back the will of the Catalan people forever. We will not wait for change in the Spanish state to exercise our inalienable right."