President's defense argues his freedom of speech and fundamental rights in hearing
Prosecutors say Quim Torra admitted he disobeyed and reject court partiality accusations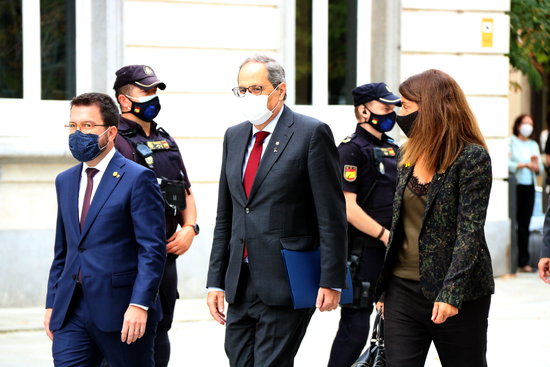 Freedom of speech and fundamental rights: these were two of the arguments Quim Torra's defense used on Thursday in order to ask the Supreme Court to overturn the Catalan president's disqualification.
The Catalan president is pending a final appeal on his conviction for failing to remove signs in favor of the jailed pro-independence leaders on time during an election campaign in spring 2019.
Lawyer Gonzalo Boye argued that hanging the banners on public buildings, including the government headquarters in Barcelona, was a "political act" and, therefore, Torra was protected by his immunity as Catalan MP.
During the one-hour hearing in the Supreme Court, Boye said that his failure to abide by should not lead to a guilty sentence because he was using his freedom of speech and his fundamental right of political participation.
He also argued that Spain's electoral board was not impartial when acting against the pro-independence signs – Boye referred to the fact that one of the board's members was found to be at the same time an advisor for unionist Ciudadanos, the party that first complained to the electoral authority.
Torra's lawyer also argued that the one-day trial that saw him disqualified pending the appeal in December 2019 was "not partial" either.
He believes some of its members are clearly unionists and they rejected his plea to take the case to the European Court of Justice before making their decision.
Prosecutors
Yet, in the same hearing, the public prosecutor's office, represented by lawyer Pilar Fernández, said there is "no obligation" for the judges to refer to Europe even if requested by the defense – therefore she rejected claims of "partiality."
Fernández also contradicted Boye saying that the act of hanging signs in the government's official buildings "is not a political act, but administrative," adding that the case concerns "not necessarily a question of which side is superior on a hierarchical level, but rather which has more authority in their relevant competences."
As for the private prosecutor, represented by the far-right Vox party, lawyer Marta Castro ruled out any of the arguments provided by Boye, saying: "Mr. Torra not only admitted he would not abide by the electoral board, but he boasted about it."
For her, it was clear cut that the president was "not neutral" during the April 2019 electoral campaign and also ruled out accepting the freedom of speech in this case, because "it is not an unlimited right."