Parliament speaker under growing pressure after MP removed from seat
Part of opposition calls for Laura Borràs' resignation while pro-independence parties ask for further explanations over Pau Juvillà's case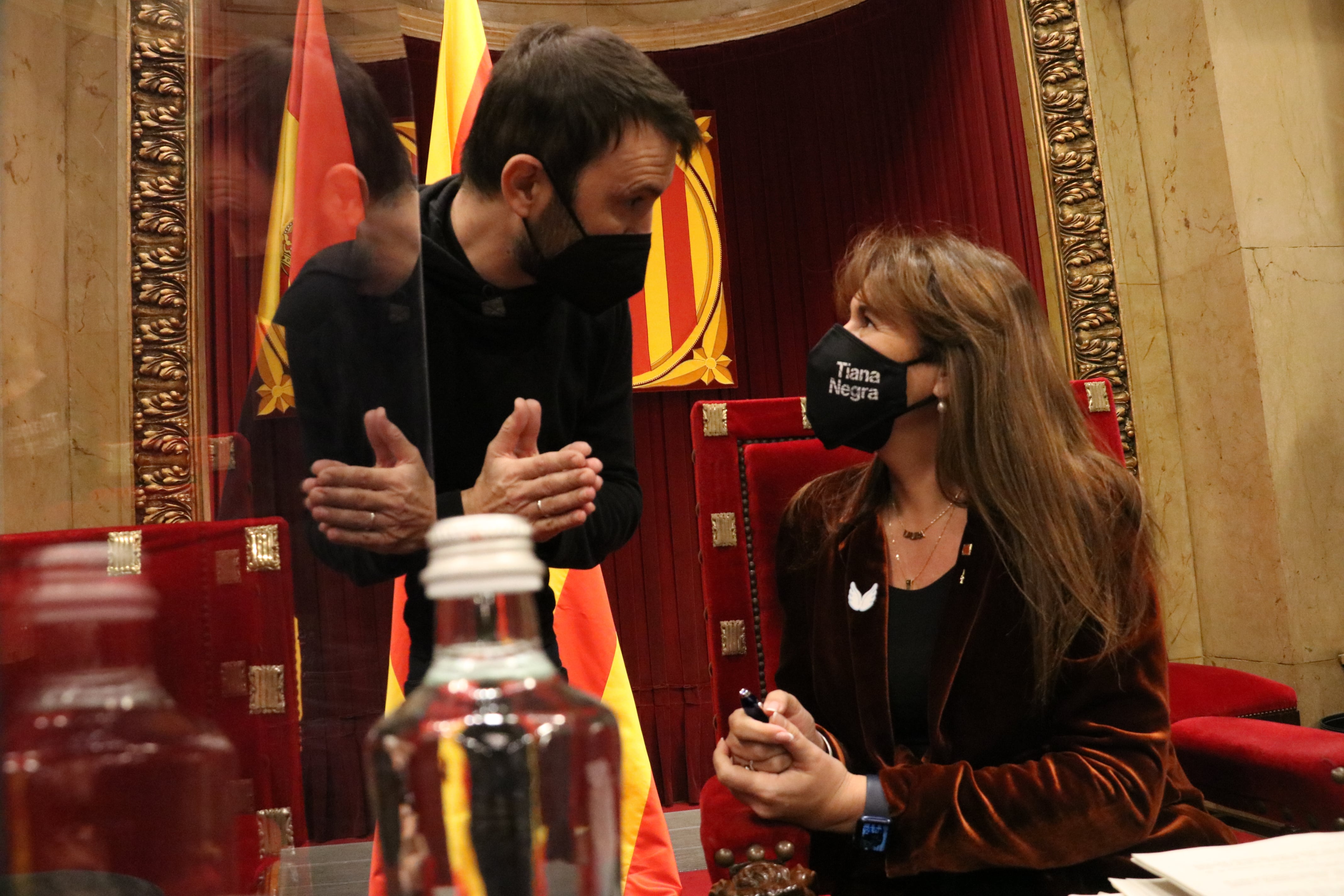 The Catalan parliament speaker, Laura Borràs of Junts per Catalunya, is in the spotlight this week in the aftermath of the 'Juvillà case', that is, the case of the CUP MP who was disqualified by the Catalan high court in mid-December and was subsequently removed from his seat last week.
Some opposition parties have urged for her resignation, while pro-independence forces ask for further explanations over her handling of the issue.
Borràs had stated in December that, unless Pau Juvillà's disqualification was upheld by the Supreme Court, Spain's final judicial authority, she would not allow the pro-independence lawmaker to lose his seat.
Yet, on February 3, and after a legal dispute with Spanish authorities, the chamber confirmed it had stripped him of his MP status as of January 28 due to a "legal obligation."
This event has raised doubts about Borràs among fellow pro-independence groups as well as other parties.
She organized several meetings after January 28 in order to seek support to fight the Catalan high court decision – and that of the electoral authority, which pushed the parliament to remove Juvillà of his seat – and even proposed suspending parliamentary activity until a resolution was reached, but the other two forces in favor of splitting from Spain as well as unionists suggest that Borràs may have already known that stripping the far-left CUP member of his seat was unavoidable and was therefore keeping information from the chamber and the public.
Borràs: other pro-independence parties rejected proposal to fight judicial ruling
In an interview on Monday, Borràs said she was ready to go "until the last consequences" in order to fight the ruling, implicitly saying she may have been ready to disobey. Yet, in the end she did not, arguing that the other pro-independence parties had rejected her "proposal of building up a joint bloc" to save Juvillà's job.
"They did not want to make a collective step forward," she said, without specifying her proposal to avoid the application of the judicial ruling, and she avoided self-criticism.
Yet, none of the parties in the chamber have approved her handling of the crisis, including senior partner in pro-independence government Esquerra, who urged her to reveal her proposal to avoid stripping Juvillà's seat.
Coalition partner Esquerra 'not aware' of proposal
"Empty words are not useful to go ahead," said party spokesperson Marta Vilalta on Monday. Despite governing together, both parties are at odds on the way forward to achieve independence, with Esquerra prioritizing dialogue with Madrid and Junts per Catalunya being more prone to an "intelligent confrontation" with Spain's authorities. Esquerra "does not know any alternative that allows independence the day after tomorrow."
Far-left CUP said that Borràs should give further explanations of the case, and said they will not replace Juvillà in parliament after a Supreme Court has its say, but avoided asking for Borràs' resignation.
Three groups ask for Borràs' resignation
However, other parties did urge her to step down, such as anti-austerity En Comú Podem. "The parliament speaker cannot go on exercising her functions and has to resign because her handling of the chamber has got out of hand," said MP David Cid.
Unionist Ciudadanos also asked her to step down, accusing her of being "a despot, sectarian and despicable."
Far-right Vox also wants her to quit, as MP Joan Garriga wonders whether "public servants have been threatened" to keep Juvillà's job.
Ciudadanos and Vox were in favor of seeing him out of parliament, while the independence parties and En Comú Podem were against such.
Recently, the Socialists and the People's Party have also strongly criticized Borràs, asking for an explanation and accusing her of lying.