Parliament removes pro-independence MP's seat after legal dispute
CUP's Pau Juvillà disqualified over hanging signs in favor of independence leaders in 2019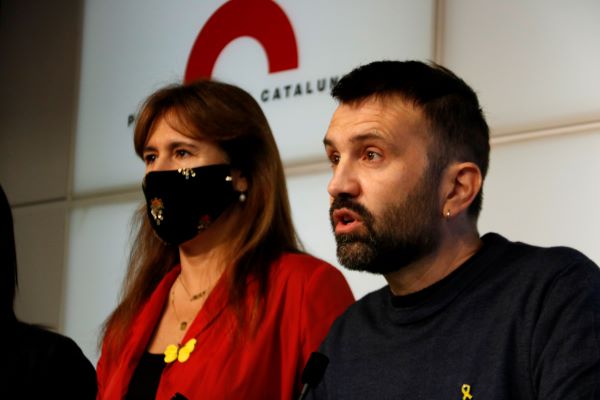 The Catalan parliament has given up its legal dispute with Spanish authorities over the status of far-left CUP member Pau Juvillà as MP.
On Thursday evening, the Catalan parliament published Juvillà's removal as a lawmaker as of Janaury 28, as a result of a "legal obligation," as parliament secretary general Esther Andreu said just before the decision was published.
Juvillà's case dates back to the 2019 municipal election period, when he was a Lleida city council member, and he did not remove yellow ribbons from the CUP office in the town hall despite being ordered to do so by the Spanish electoral authority during an electoral campaign.
Such signs at the time symbolized support for the pro-independence leaders who were jailed back then for their role in the 2017 independence push.
Juvillà was disqualified from public office in a non-final ruling by the Catalan high court, and, although parliament speaker, Laura Borràs, originally said his seat would not be removed unless the Supreme Court confirmed his disqualification, the chamber ended up giving up and accepting the electoral authority's imposition after the Catalan high court ruling.
Disqualification from public office
Ciudadanos, a center-right party that is staunchly against splitting with Spain and that used to be Catalonia's largest opposition party, lodged a complaint against Juvillà in spring 2019 with the Electoral Board for displaying what they described as partisan symbols during an electoral period.
Despite this, on April 3, 2019, the then-councilor refused to take them down in an act of defiance that led to disobedience charges. The yellow ribbons were eventually taken down by Mossos d'Esquadra police officers.
The public prosecutor had requested an 8-month disqualification from public office as well as a €1,440-fine.
In the end, he was stripped of his seat by the electoral authority in January following a High Court ruling - pending a Supreme Court final ruling - in December in which he was found guilty of disobedience for not removing yellow ribbons from his office in the Lleida council during an election period.