Parliament speaker to verbally count vote of exiled MP despite court ruling
Votes will not appear on the chamber's screen to avoid legal repercussions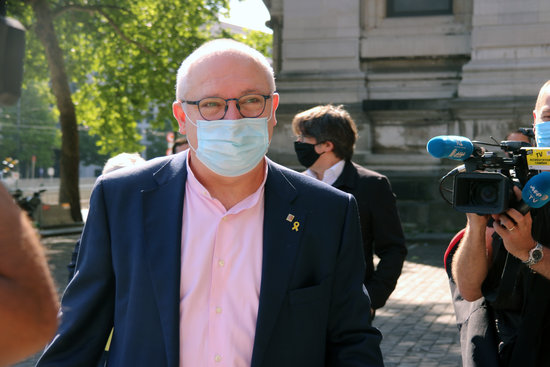 The Catalan parliament bureau has agreed to verbally accept votes on motions in the chamber of MP Lluís Puig, who is living in exile in Belgium. The decision could potentially lead to another legal battle involving the chamber speaker, Laura Borràs.
The speaker will verbally count the vote communicated via Puig's party's Junts per Catalunya (JxCat) spokesperson, as the Catalan News Agency (ACN) has learned. The pro-independence party is currently the junior coalition partner in the Catalan government.
"I communicate to you all that the vote of MP Lluís Puig will be counted as an MP through the spokesperson of his parliamentary group," Laura Borràs, said to the chamber.
The Constitutional Court notified on Tuesday to the parliament that delegating the vote of the MP is not permissible. The decision arrived after the opposition leader and head of the Catalan socialists party (PSC), Salvador Illa, filed a complaint against the situation.
The judge believes that allowing for an MP to delegate the vote risks the rights of the PSC force, other MPs of undertaking their work as a representative, and citizens to take part in political affairs through their politicians.
MP in exile
Lluís Puig has been living in Belgium since the 2017 independence referendum. Spain has attempted to extradite the former Catalan minister but Belgium has officially rejected the Spanish will.
Puig is wanted for his role as a member of the Catalan government that called an independence referendum in 2017, causing an unprecedented territorial crisis in Spain, and faces accusations of misuse of public funds.
In Belgium, Puig has continued to be politically active alongside former president Carles Puigdemont and other pro-independence leaders.
In October 2019, nine of Puigdemont's former ministers who stayed in Catalonia and faced trial for the independence push were sentenced to serve between 9 and 13 years in prison for the crime of sedition.