Oriol Junqueras immunity hearing set for October 14 in EU court
The Catalan politician claims parliamentary immunity after being elected as an MEP in May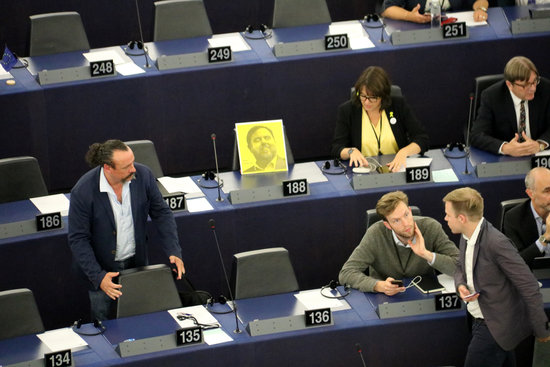 The Court of Justice of the European Union (TJUE) has set the hearing on whether or not Oriol Junqueras has parliamentary immunity as an MEP for October 14.
The court president has decided to fast-track the request through the accelerated procedure provided by law.
The Esquerra party leader was elected as a Member of the European Parliament (MEP) in May, but was not permitted to leave prison in order to take the oath of office and officially take up his seat.
Junqueras argues that his election to the European chamber means he should be given parliamentary immunity, and therefore be freed from jail, where he is currently awaiting the verdict of the Catalan Trial.
The Supreme Court asked the European High Court at the beginning of July on the scope of the immunity of the former Catalan vice president, a query that he made against the opinion of the prosecutor's office and the law of the State.
The oral hearing will be held at the headquarters of the Court of Justice of the European Union, in Luxembourg.
Specifically, the Supreme Court are asking the Court of Justice whether Junqueras enjoys parliamentary immunity despite not having completed the accreditation process, and if so, whether he has the right to be allowed out of prison to do complete that process and attend the European Parliament.
Previously, Junqueras's seat as an MEP was declared 'vacant' by the Spanish authorities as the European Parliament held its first plenary session weeks ago.
The new president of the European Parliament, David-Maria Sassoli, has come under pressure from different sides to allow Junqueras to take his seat as an MEP.
The jailed leader himself sent a letter to Sassoli asking the EU chamber head to "intervene" in his case. "I was elected with the votes of more than 1,200,000 people, but I have so far not been able to take up my seat in the European Parliament," the letter read.
The Greens–European Free Alliance (Greens/EFA) European Parliament group asked for a meeting with Sassoli to discuss Junqueras' case, in a letter signed by Ska Keller and Philippe Lamberts.
At the beginning of the month, Keller, who is co-president of the Greens/EFA, already asked the new EU chamber president "to restore the parliamentary rights" of Oriol Junqueras.