New EU chamber head under pressure to let jailed Junqueras take up seat
Greens/EFA joins imprisoned Catalan leader in calling on David-Maria Sassoli to allow him to be member of European Parliament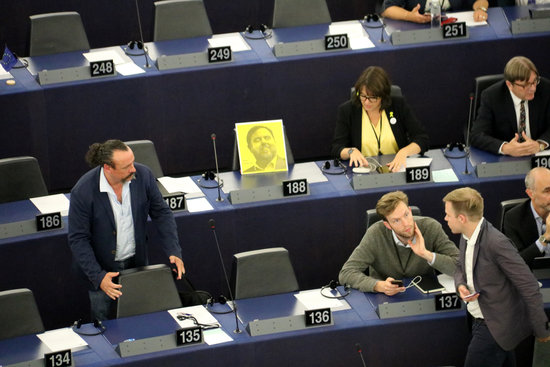 The new president of the European Parliament, David-Maria Sassoli, is under pressure from different sides to allow jailed Catalan leader, Oriol Junqueras, to take his seat as an MEP.
Junqueras himself sent a letter to Sassoli on Thursday, asking the EU chamber head to "intervene" in his case, as the Spanish authorities have declared his seat vacant.
The head of the pro-independence Esquerra party (ERC), Junqueras is in jail awaiting a verdict by the Supreme Court after standing trial for his part in the 2017 independence bid.
"I was elected with the votes of more than 1,200,000 people, but I have so far not been able to take up my seat in the European Parliament," says the ERC head in the letter.
The Supreme Court denied Junqueras permission to leave prison to take up his seat, and so his name did not appear on the list of Spanish MEPs returned to Brussels.
Greens/EFA asks to meet with Sassoli
Also this week, the Greens–European Free Alliance (Greens/EFA) asked for a meeting with Sassoli to discuss Junqueras' case, in a letter signed by Ska Keller and Philippe Lamberts.
At the beginning of the month, Keller, who is co-president of the Greens/EFA, already asked the new EU chamber president "to restore the parliamentary rights" of Junqueras.
Also earlier in the month, ERC MP Diana Riba sent a letter to Sassoli urging him to take the necessary measures "to confirm the parliamentary immunity" of Junqueras.
Riba's letter cited article 8 of the European Parliament's regulations, but as far as the Catalan News Agency can tell, her letter has so far received no response.