'No grounds' to challenge nominated ministers, argues head of PSC
Appointing officials in prison or abroad is "not illegal" but it is "a big mistake," says Miquel Iceta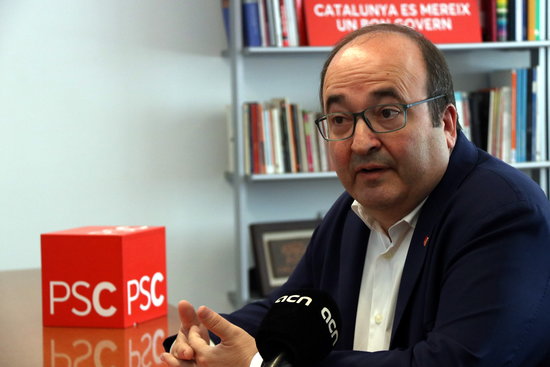 Miquel Iceta, the leader of the Socialist party in Catalonia (PSC), defended that "there's no reason" for Spain to challenge the appointment of officials in prison or abroad as ministers. During an interview with the Catalan News Agency carried out on Friday May 18, a day before the list of nominees of the new Catalan government was released by Quim Torra, the subject was however broached with Iceta.
"It's not illegal" for pro-independence officials held in custody to be nominated as members of Torra's cabinet, expressed Iceta. However, in his view it would be a "very big mistake," as Spanish institutions could see it as not "an action to promote dialogue but rather one that might give the impression that there's a will to maintain or increase tension."
The leader of the Socialists further said that the decision to appoint ministers in prison or abroad – in this case, Jordi Turull, Josep Rull, Lluís Puig, and Toni Comín – does "not help anyone," maybe even not those nominated, stated Iceta. The PSC head argued that those nominated must "be able to devote themselves fully" to the post.
Not illegal, but a mistake
Iceta elaborated that, for example, the lack of ability to fully carry out their work is because, for example, "they won't be able to go to parliament," and their actions will have to be "delegated to and carried out through someone else."
Still, the leader of the Socialist party was clear that from the point of the view of his coalition "this is not something illegal," but in their opinion "a mistake" and "erroneous." And therefore, he expressed, a decision must be taken regards the chosen nominees not only based on its legality.
Iceta further stated that, imagining governmental meetings were to be held abroad, "it could pose problems" and even "could be challenged," as decisions would be taken "in the margin of legality or lacking legal requirements."
Disagreement about Article 155
On May 20, Spanish president Mariano Rajoy agreed with heads of Spanish Socialist (PSOE) and Ciutadans (Cs) parties to not lift Article 155. Two days earlier, Cs had already requested that the constitutional measure be extended, something that on May 18, Iceta did not agree with.
The Spanish Senate was "clear" that Article 155 would end as soon as a new government was sworn in, argued Iceta. However, he added that "it should be decided what the answer is" should there be new actions taken outside the Spanish framework.
Iceta also stated that he hopes the new president "won't make the same mistakes" as the previous legislature, something which Iceta deemed as "break with legality." "I don't think that these things will happen in this term," he said.
Critical of tweets
While expressing hope in the new term, the PSC leader reserved criticism for new Catalan president Quim Torra, especially regards contentious tweets and articles the new government leader had made and published years before, denounced by many for criticizing Spaniards.
Iceta noted that Torra should be judged on his actions as president, but added that in reading the tweets and articles it became "obvious" that the pro-independence MP "was not the most appropriate person to be president." Iceta highlighted the "cost when it comes to the image" that Catalonia projects to the Spanish state and to Europe, referring to some having denounced Torra's writing of containing elements of "xenophobic populism."
The Socialist leader stated that while in his view, and because of the published material, it will be difficult for the author "to be president to all Catalans," he did not want to "preemptively judge" his presidency. "Maybe there'll be a before and an after," he said.