New Catalan government's 10 biggest challenges in 10 graphs
Unemployment, housing crisis, social inequality, depopulation, independence issue and public health situation among hottest topics for Aragonès' cabinet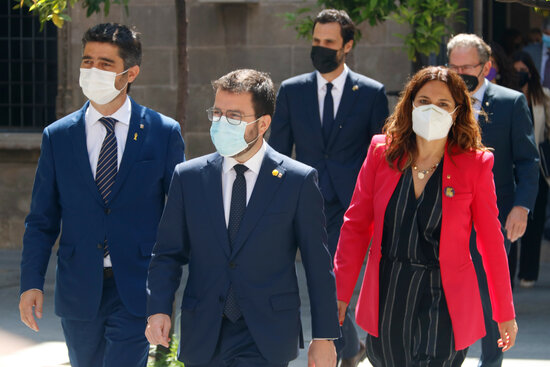 Pere Aragonès has been Catalan president for exactly a week and his desk is already full of hot topics and pressing issues.
The new government took office last Wednesday and will convene on Tuesday for the first full cabinet meeting, to begin to face its short- and long-term challenges, some of them new, and others that have been dragging out for decades or even centuries. Check out what to expect of the new term in our recent podcast:
This is the first executive (in office after an election) that is led by the left-wing Esquerra party in the past 80 years – and, together with the other mainstream pro-independence party, Junts per Catalunya, it aims to reconstruct Catalonia after Covid-19. It also aims to find a way out of the political conflict with Spain through Catalonia's self-determination and an amnesty for those involved in judicial cases related to the independence push.
These are two of the hottest topics the new cabinet will face, but there are more, including climate change – a new ministry on climate action has been set up for the first time in history. Check out the Catalan News selection of ten of the challenges ahead, with accompanying graphs and maps:
Beating Covid through vaccines and focusing on mental health
The pandemic is now under control, but authorities are still calling on the public to be cautious in order to avoid new outbreaks – the reopening of social life in Catalonia will be a challenge in itself, and the progress of vaccinations will be key for a gradual return to normality. So far, 36% of Catalans have been given at least one dose – this figure needs to double for the country to attain herd immunity. Yet, society will not just 'go back to normal,' after such unprecedented times and over 22,000 deaths. The public's mental health will be a challenge – Aragonès visited a mental health center on his very first day in office.
Thousands of doctors and nurses needed
Zooming out and looking at health from a more general perspective, the sector is exhausted after their most challenging year ever. Healthcare professionals are demanding more public spending and believe that the pandemic has made it obvious that the cuts to public health in the wake of the 2008 financial crisis made it difficult to cope with the health emergency.
If we compare Catalonia with the 27 EU member states, most of them have a better ratio of primary care doctors, and Catalonia is especially behind when it comes to nurses. The sector believes 1,000 more GPs and 23,000 more nurses are needed.
A third of youth unemployed
Unemployment had been steadily falling ever since the peak of the financial crisis in 2013, but Covid-19 saw Catalonia shrink back to levels from four years ago and now 12.9% of workers are jobless, around half a million. But what is most worrying is the lack of a future for young people, with a third out of work –and thousands already abroad looking for opportunities.
Two different socioeconomic worlds in the same city
The pandemic has only stressed an obvious reality in Catalonia: social inequalities. The Catalan statistics institute (Idescat) has recently divided the country into around 850 areas with similar populations and released an index to see whether they are better off or worse off than the average (at 100 in the index) in a ranking that takes into account work, education, income and migration in each of the areas. With just a quick glance at the map, it becomes obvious that cities are very unbalanced in terms of socioeconomic levels. Barcelona, Badalona and Girona are the municipalities with the biggest contrasts.
Over 50% of pro-independence ballots – any response from authorities?
The independence push hogged almost all of the attention in the Catalan and Spanish political arenas during the 2010s. But, after million-strong demonstrations, a referendum, jailed and exiled leaders and the suspension of self-rule, the issue remains unresolved. In the latest Catalan election, pro-independence parties garnered over 50% of the ballots for the first time. The government wants to deliver an agreed referendum with Spain on the back of this mandate. Will they succeed in persuading Madrid?
Gender gap, just the tip of the iceberg of gender inequalities
For the first time, Catalonia has a Ministry of Feminism. In the past number of years, the need for women's rights to equal that of men has become more urgent as society has become more aware. Gender inequalities could be illustrated in endless graphs, with topics including violence against women, sexism, share of household duties per partner… And we opted to show the gender pay gap, one of the easiest ways to understand this problem. Catalonia is doing slightly better than the EU in this field, but there is still room to improve.
Housing crisis
Humans are known for stumbling twice against the same stone – and the housing crisis is evidence of it. In the 2000s, prices to buy a house skyrocketed due to a bubble, until it burst in 2007 and the worst recession on record began in Catalonia and Spain. Now prices are going up, and especially rental ones. An average rent will cost you €734 in Catalonia in 2020 (€140 more than four years before), but in Barcelona, it is spiking at almost €1,000 a month (€801 in 2016), even more than before the bubble burst in the 2000s. The government has set a rent cap, but it has been challenged in court. In the capital, buying a flat (€4,170 per m2) costs double than the Catalan average (€2,227 per m2).
Depopulation
The current government also wants to tackle depopulation – but this is not something you can revert in a year, because the trend of vacating rural inland areas has been going on for decades, and even centuries. Comparing the evolution of population density in 1920, 1970, 1991 and 2020 gives you an idea on how evenly Catalans were spread out 100 years ago, and how the story has changed over the years.
More money needed for research
The cabinet will also have a new universities and research ministry because authorities want to give an extra boost to this sector. But what researchers want is more funding: Catalonia, like Spain, is below the EU average in public expenditure in this field as a percentage of GDP. And what is more concerning is that the share spent on R&D is lower than in 2008.
2% spending on culture still far
Culture has been one of the sectors worst affected by the pandemic, considering that most events have had to be postponed or canceled for much of the crisis during the past year. The sector is in dire need of help from authorities, and they are making stronger calls for their main demand: to make up at least 2% of the budget. Catalonia is nowhere near this goal, doing worse than most EU countries. President Aragonès has committed to reaching this threshold during this term.