Doctors and nurses urge new health minister to transform care system and hire more staff
Epidemiologist Josep Maria Argimon has been at the forefront of Catalonia's efforts to control Covid-19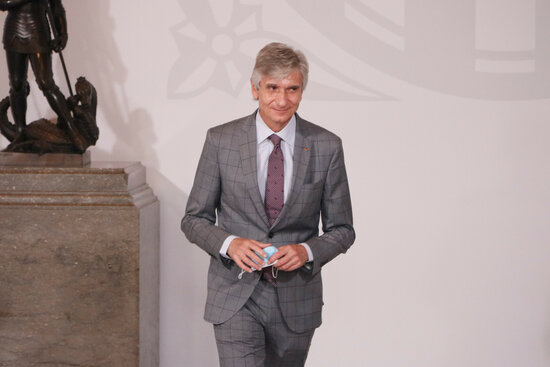 Medical professionals have welcomed the appointment of one of their own, Josep Maria Argimon, as Catalonia's new health minister, while urging him to transform the healthcare system and make the hiring of new staff a top priority.
Argimon, who took up his new post on Wednesday, is a familiar face in Catalonia, due to his frequent appearances at Covid-19 briefings in his previous role as Public Health Secretary.
"He knows the health system perfectly; hospitals, public health, mental health and primary care of course," the president of the Catalan Society of Family and Community Medicine (CAMFiC), Antoni Sisó, told the Catalan News Agency (ACN).
"Not only does he know the system, but he has helped to make it the way it is. He is a person with a high degree of professional prestige and I think this should be valued positively," Sisó added.
The general secretary of the Catalan Doctors' Union echoed those sentiments. "He won't need any kind of adaptation period," explained Xavier Lleonart. "He knows a lot about the virtues and miseries of the system."
"From this point of view, he is someone who can begin to make deep reforms from the first minute, because he doesn't need to find his bearings. If he's willing to reach out to us to help him, we'll get out of it [the health crisis]. If he doesn't, it will be difficult for him."
The two doctors believe that the health system must be transformed and that more staff and resources are required.
For Sisó, the number one priority must be primary care, focusing on strengthening staffing levels and modernizing infrastructure. He says 1,000 GPs are needed, pointing out that there are 7.2 family doctors per 10,000 inhabitants in Catalonia, while the European Union average is above 9.5.
Lleonart belives that "managers have prioritized a health system based on low-cost medicine." He says that this "has no further course and needs to be rethought. If we delve deeper into the low-cost model, we will go straight into the abyss," he added.
Nurses
Nursing unions agree that Argimon has to improve staffing levels. A statement from the Official College of Nurses of Tarragona (CODITA) said that 23,000 more nurses are needed in Catalonia, pointing out that there are 5.06 nurses per 1,000 inhabitants in Tarragona, lower than in Spain (6.09), and much lower than the European average (8).
CODITA is also calling for more recognition for nurses, which they believe is lacking, "despite the enormous work done before and during the coronavirus health crisis."
Handover
Argimon, an epidemiologist in health management, has held various positions in Catalonia's health system, but this is his first expressly political role. He replaces Alba Vergés, who wished him "luck and success," while Argimon thanked his predecessor, saying that he was "proud" to have been part of her team during the coronavirus pandemic.