MEPs protest incarceration of civil society leaders in front of European Parliament
European politicians spoke out against Spain's disregard for "democracy and human rights"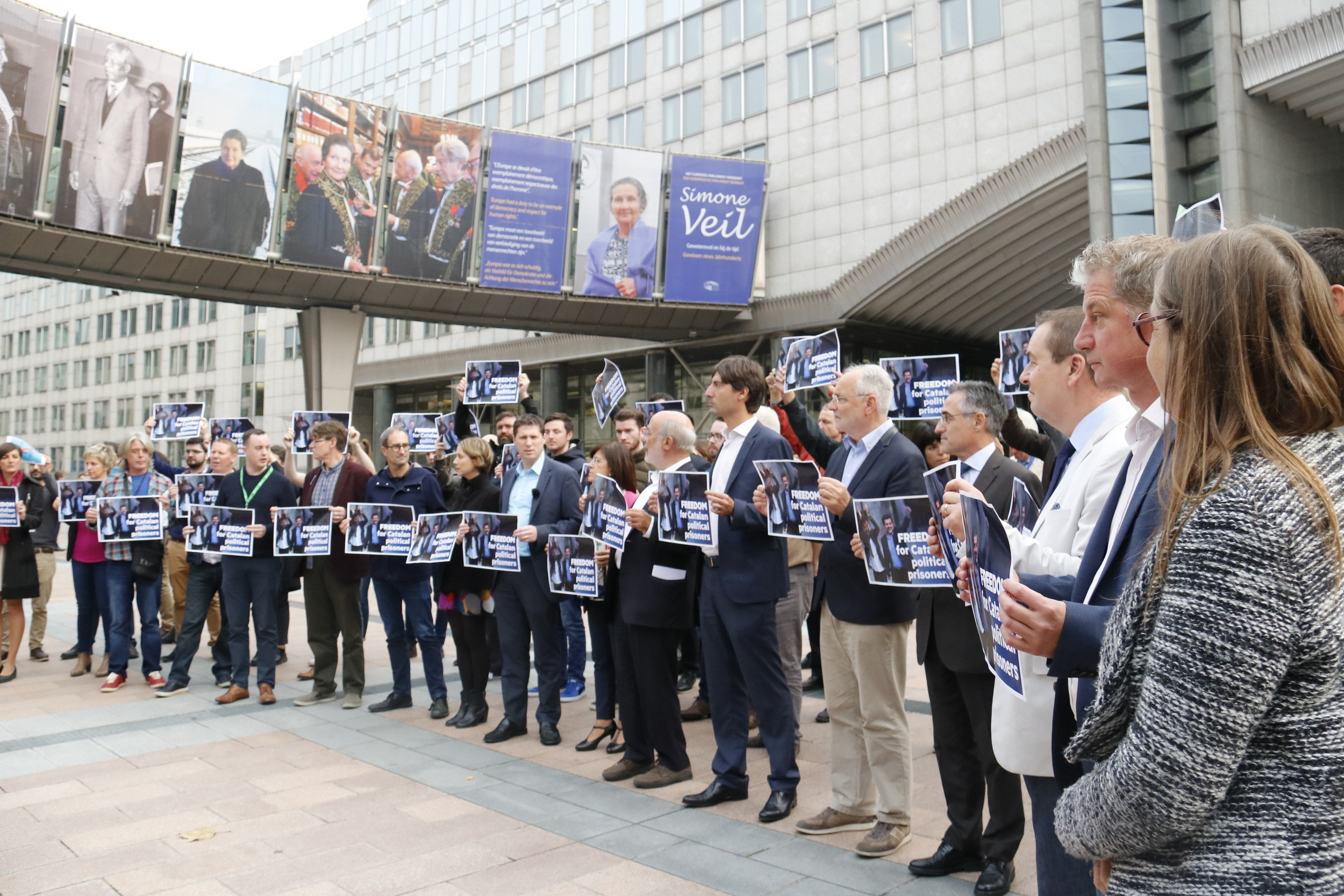 Nearly 20 MEPs from several countries and various political groups protested protest against the incarceration of the leaders of the grassroots pro-independence movement in Catalonia. Jordi Sànchez and Jordi Cuixart, from the Catalan National Assembly (ACN) and Òmnium Cultural respectively, are being held in prison in Madrid while they are investigated for sedition.
The MEPs gathered in front of the main entrance of the European Parliament in Brussels in solemn demonstration, demanding the release of Sànchez and Cuixart. The protesters stood holding posters with the images of the two civil society leaders, and the message "Freedom for Catalan Political prisoners."
Among the European Parliament members present were politicians from the European Conservatives and Reformists (ECR), the Alliance of Liberals and Democrats for Europe (ALDE), and the Greens/EFA and the European United Left-Nordic Green Left (GUE / NGL).Followers of the ANC civil society organization also gathered in Brussels, holding posters and even the Catalan independence flag, the estelada.
"In conflict with the basics of democracy"
Slovenian MEP and former Foreign Minister Ivo Vajgl (ALDE) stated that he believes the government in Madrid "is making one mistake after another" and is in "conflict with the basics of democracy."
"If in any country in the world someone imprisoned the leaders of peaceful demonstrations, we would scream that human rights were being violated," he stated. "The same applies to Spain," the Former Minister added.
According to Vajgl, imprisonment "is a very, very wrong way [to react]. Instead of accepting the offer of open and fair dialogue, the [Spanish] government makes use of repression and thinks of more repressive measures," the MEP said. The Slovenian politician considers that "it is not only a Spanish problem," but "an increasing problem in European democracy."