Junqueras leaves prison for first time to work in university
Former vice president will be allowed out of jail three days a week to teach history course at Manresa campus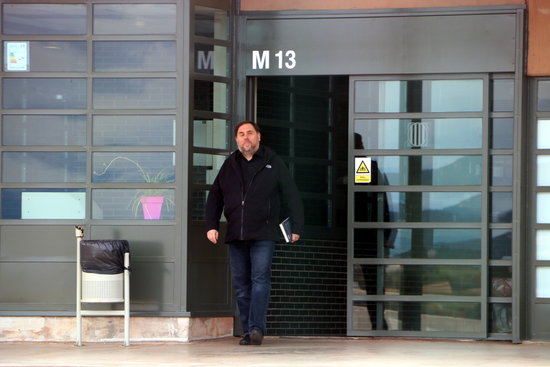 Jailed independence leader and former Catalan vice president, Oriol Junqueras, left prison for the first time on Tuesday under the terms of the temporary leave granted him to work for six hours a day, three days a week in a university.
Junqueras is the latest of a number of the former officials and activists jailed for their part in the 2017 independence bid in Catalonia to regularly be allowed out of prison for short periods in order to do paid or voluntary work.
The former foreign affairs minister, Raül Romeva, left prison for the first time on Monday, and also for three days a week will work for a private body, evaluating the progress made in the 25 years since the Dayton Peace Accords ended the Bosnian War.
Junqueras to teach history on Manresa campus
Junqueras left the Lledoners prison just after 11am, waved to reporters, and made his way to the car park to be driven to the Vic university campus in Manresa, where he will have his own office and where he will teach history classes.
Specifically, the former vice president will work for the Bages University Foundation (FUB), a private organization that provides courses for students in central Catalonia. There he will begin preparing the history course that is due to begin after Easter.
The history course Junqueras will teach will be available to anyone who is interested in taking it, and the university authorities say that their aim is to make the presence of Junqueras on campus "as normal as possible."
Seven of nine granted regular leave
Of the nine former Catalan officials and activists jailed over the 2017 independence bid, Junqueras received the heaviest prison sentence: 13 years in jail for the offense of sedition. All but two of the leaders have so far been granted regular temporary leave.
Yet, the Spanish prosecutor has opposed the temporary leave, in the case of activist leader Jordi Cuixart, for example, arguing that the offense is "exceptional" and so requires a "restrictive interpretation" when awarding daytime release from prison.