Jailed leader Romeva leaves prison for first time on regular temporary release
Former foreign affairs minister has permission to work in private body evaluating Bosnian peace agreement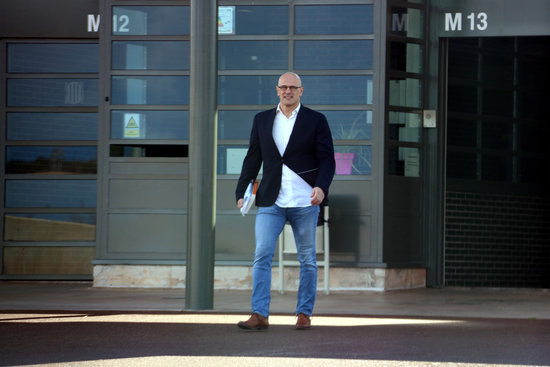 The jailed Catalan independence leader Raül Romeva has left prison for the first time on regular temporary release.
A few days ago, he got permission to work for a private body, evaluating the progress made in the 25 years since the Dayton Peace Accords ended the Bosnian War.
He will be allowed out of the penitentiary for six hours a day, three days a week.
Romeva left the Lledoners prison at 10.50 am on Monday, accompanied by his wife, Esquerra party MEP Diana Riba, and former colleagues at the foreign affairs ministry.
Earlier this month, Romeva gave an account to Catalan News of his time to date in Lledoners prison.
Romeva is among six of the eight jailed leaders who have asked for regular prison leave, which all of them have now begun, except for Oriol Junqueras, who is expected to leave the penitentiary for the first time this week.
Junqueras, to start temporary leave this week
Esquerra's party leader will work for the University of Vic at its Manresa campus in central Catalonia.
The terms of his prison leave are the same as Romeva's: three days a week, six hours a day.
Junqueras and Romeva are currently serving terms of 13 and 12 years respectively for their roles in the 2017 independence bid.
Jordi Turull and Josep Rull are the only officials jailed for their part in the 2017 referendum who have not asked for such temporary leave yet, which the prosecutor is challenging.
The prosecutor believes the offense is "exceptional" and, therefore, requires a "restrictive interpretation" when it comes to awarding daytime prison leave or not.