Junqueras' immunity ruling yields strong reactions on both sides of independence issue
Calls for jailed leader's "immediate" freedom following ECJ ruling, while unionist insist he is still a "criminal"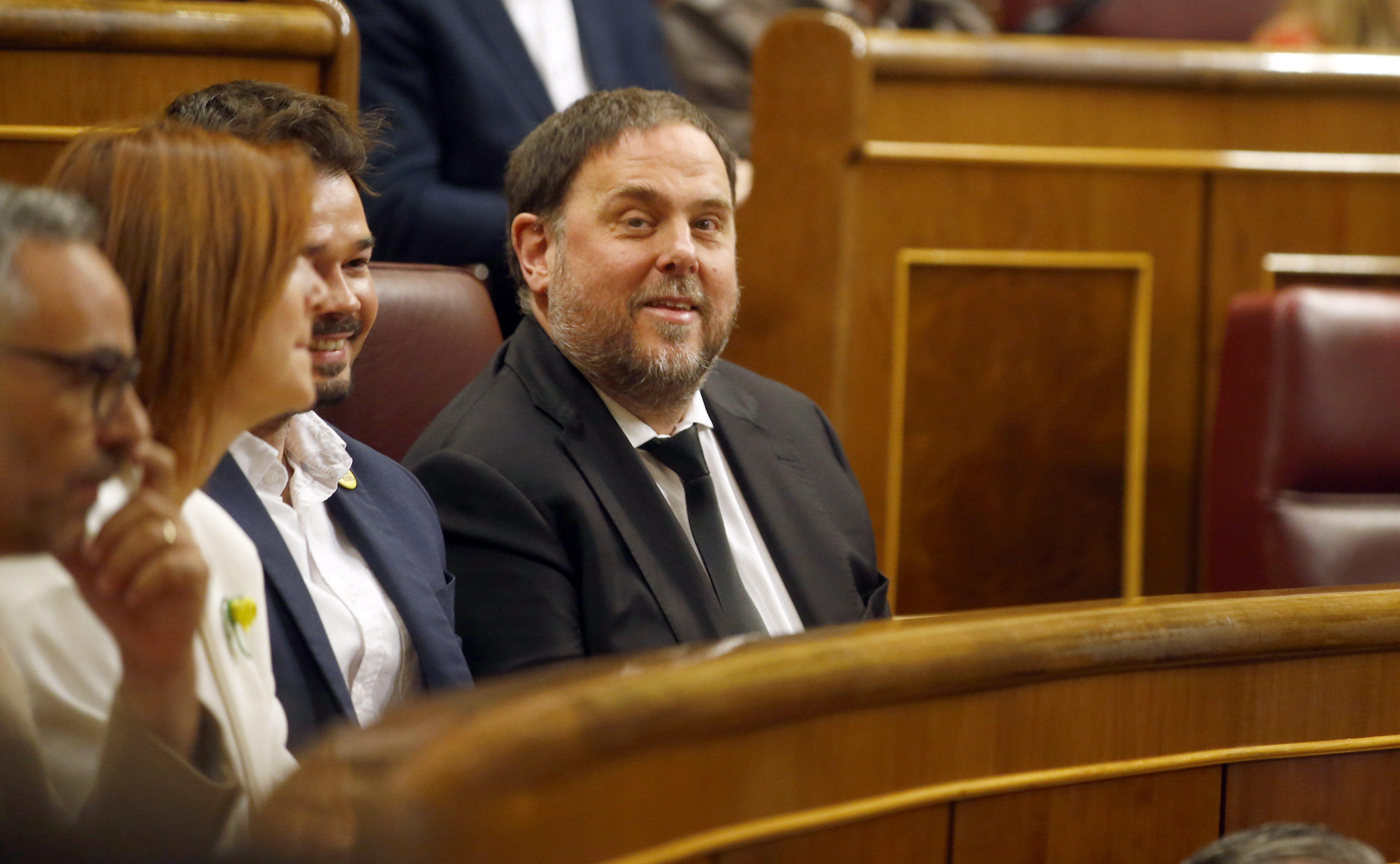 Thursday's ruling by the European Court of Justice (ECJ) that jailed Catalan leader Oriol Junqueras had immunity as an MEP, despite not being able to take up his seat, led to widespread calls in the independence camp for his sentence to be overturned.
Reacting to the news from prison, where he is serving 13 years for sedition, Junqueras said "justice has arrived from Europe. Our rights and those of two million citizens who voted for us were violated. Annul the verdict and freedom for all!"
However, the reaction from Spain's Supreme Court, which sentenced Junqueras over his role in the 2017 independence bid, was cautious, with the court saying in a statement that it "will study [the ECJ's ruling] in depth" before proceeding.
The uncertainty over how the ECJ's decision might affect Junqueras' situation did not prevent leading figures in Catalonia's independence camp from welcoming the news as a major boost for the movement. Elsewhere, unionist forces have also been voicing their views, saying that Thursday's ruling changes nothing in relation to the Supreme Court conviction that sees him serving a 13-year jail sentence.
Pro-independence camp call for "immediate release"
Former Catalan president in exile Carles Puigdemont, who along with the jailed leader and former minister Toni Comín has been prevented from taking up the seat he won in May's European Parliament, called for the "immediate release" of Junqueras.
"There are still judges in Europe," he noted on Twitter, arguing that "the ECJ defends the same criteria that we have defended against the European Parliament and the Spanish authorities, who have tried to change how European democracy works."
In a press conference in the evening, he added that the ruling is "historic" and sent a message to Madrid and Brussels: "We invite Spain and European institutions to renounce repression and complicity and begin the path of negotiation and mediation [on the Catalan issue]."
The current president Quim Torra joined in, tweeting that "we have found justice in Europe" and that the ECJ's decision is "clear," predicting "it will have consequences for Carles Puigdemont and Toni Comín, two MEPs-elect that have not been recognized as such."
Celebrating the European high court's decision in the Catalan parliament, vice president Pere Aragonès demanded that the Supreme Court's sentence on Junqueras be annulled, and he called for his party leader's "immediate release."
There was a similar reaction from parliament speaker Roger Torrent, who said "Europe has made it clear that the Supreme Court infringed the rights of Junqueras by denying him immunity as an MEP," and he also called for the leader to be set free immediately.
Meanwhile, foreign affairs minister Alfred Bosch also said "that what is needed now is for the sentence to be annulled, for Junqueras to be released, and for him to be able to take up his seat in the European Parliament."
Oriol Junqueras' lawyer, Andreu Van den Eynde, thinks it is "impossible" for Spain's Supreme Court to not release the politician from jail.
"I can't imagine Spain indefinitely breaching human rights," he added.
"Immunity is not impunity"
The Spanish government said it respects both Spain's and European courts' decisions and called on Esquerra to continue negotiating with the Socialists on Pedro Sánchez's presidential bid, after the pro-independence party announced it was halting the talks until the solicitor general (representing Spain's government) has its say on the new situation.
MEPs Dolors Montserrat (European People's Party) and Ciutadans' Jordi Cañas asserted on Thursday that "immunity is not impunity" in relation to the ECJ judgment.
Montserrat said that this decision "does not change" the guilty conviction of Junqueras "for violating democracy" in any way. "We have full confidence in the Spanish judiciary," the MEP stated.
In turn, Cañas said he "respected" the court sentence in Luxembourg and agreed that the sentence "did not affect Junqueras' condition as a convict" for his role in the 2017 push for independence, for which he was found guilty of sedition, misuse of public funds.
"What could happen is that this doctrine be applied to those who have escaped," Cañas said, referencing Carles Puigdemont, Toni Comín and Clara Ponsatí, who fled the country in the wake of the unilateral declaration of independence to avoid being jailed.
However, he also suggested that in the event of the three being granted MEP status, the Supreme Court could ask that their immunity be lifted so they may face trial in Spain.
MP for the unionist Ciutadans, Nacho Martín Blanco accused the pro-independence camp of "manipulating" the EU Court of Justice's decision, and insisted that Junqueras was still a "criminal" convicted of sedition and misuse of funds.
"Stop institutionalizing the lie and confusing people," Martín Blanco demanded in the Catalan Parliament. According to him, the victory held up by the pro-independence side is "worthless," and he described the decision of the Luxembourg court as "a slap to the Spanish rule of law."
Meanwhile, Vox compared the European Union as a "sanctuary" for "coups and terrorists" in a press note shared on their social platforms.
The far-right party believes the ruling on Junqueras's immunity is an "insult" to Spain.