Jordi Solé takes jailed Junqueras' MEP seat
Pro-independence party says imprisoned leader will still fight for his parliamentary immunity and his seat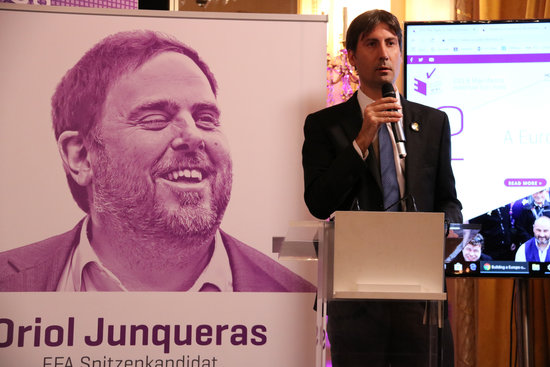 Jordi Solé took office as MEP after the European Parliament speaker, David Sassoli, announced that it is "with effect from January 3" at the beginning of the extraordinary plenary session convened in Brussels on Thursday.
The official for pro-independence Esquerra party is replacing his jailed party leader, Oriol Junqueras, who was stripped of his MEP status in January, the Catalan News Agency (ACN) learned.
Junqueras' struggle to become MEP
Junqueras won a seat in the European Parliament in the May 26, 2019 EU election – yet, the Spanish authorities denied confirming his status soon afterwards since he was not given a provisional leave to take the oath on Spain's constitution in-person.
On December 19 last year, his immunity as an MEP-elect was confirmed by the European Court of Justice (ECJ).
This led the EU chamber to accept his seat on January 6, with effect from July 2, 2019.
Yet, three days later, Spain's Supreme Court denied that jailed pro-independence leader Oriol Junqueras had parliamentary immunity and rejected freeing him to attend parliamentary sessions, on the grounds that the decision of the ECJ applied to the time when the politician was still in provisional detention waiting for a sentence – but the judges considered that since he was sentenced to prison and disqualification from public office in October 2019, he had no longer right to be MEP.
Subsequently, the day after, on January 10, the European Parliament stripped of his MEP status with effect from January 3, when the Spanish electoral board first brought up the issue before the final decision of the Supreme Court.
While the chamber told ACN that Solé has not taken office until now because he did not follow the usual process to do so in January and now he has, Esquerra argued it was a decision of the parliament to make the move now.
Hopeful to regain seat in ECJ case
Junqueras is still hopeful to regain his parliamentary immunity and his seat. He has a judicial case open before the Luxembourg-based court against his loss of seat.
His party believes if his claim was successful before the EU courts, he would be able to regain his seat.
"We will continue defending my rights and those of our voters and I hope the European judiciary will side with me and return my seat. In the meantime, all the best to Jordi Solé, who will represent us well in the European Parliament," tweeted Junqueras on Thursday morning.
The December 19 ECJ ruling also affected three other pro-independence MEP-elects, including Carles Puigdemont, who had been denied their seats like Junqueras.
Since the former Catalan president is not facing any conviction, he has been able to serve as MEP since early January.