Independence camp plans protest in Strasbourg for EU parliament inauguration
Council for Republic organization calls on demonstration on July 2 in Strasbourg to defend exiled and jailed leaders' rights to become MEPs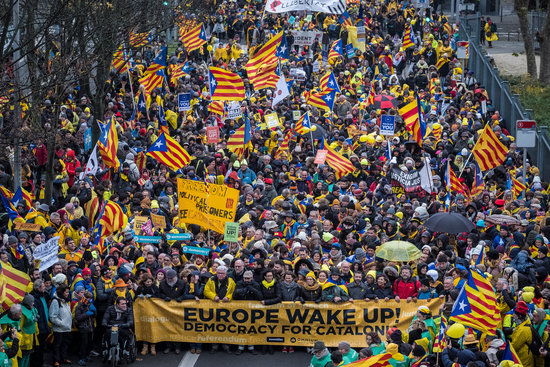 After tens of thousand-strong demonstrations in Madrid and Brussels, the pro-independence camp prepares a third massive protest outside Catalonia.
Strasbourg, July 2 are the place and date chosen — and it is no coincidence that the protest will take place outside the European parliament building when the chamber inaugurates the new term after the May election.
The Council for the Republic, a private organization led by the exiled leader Carles Puigdemont, called for Catalans to travel to the French city to defend the former president's rights to become an MEP, and that of the also exiled politician Toni Comín and the jailed official Oriol Junqueras.
In a statement, the group also announced that it would work together with other Catalan pro-independence civic organizations, and calls on other European entities which feel involved in the defense of the rights and democracy to join.
For Puigdemont's council, leaving himself, Comín and Junqueras out of the institution after being elected MEPs by 1.7 million people (and 49.7% of Catalonia's voters) would be "a very serious precedent which would damage the European Parliament's credibility."
So far the exiled former president and the former minister Comín have been barred from entering the chamber building in Brussels once, which prompted Puigdemont's complaint against the institution's heads and the EU ombudsman.