Exiled Puigdemont and jailed Junqueras win seats in Brussels
Heads of the pro-independence parties vying for seats in the European Parliament get almost 50% of vote in Catalonia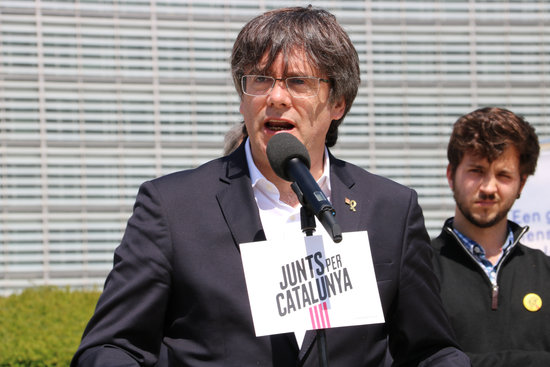 As the exit polls predicted, the exiled former Catalan president, Carles Puigdemont, has won a seat in the European parliament.
His former vice president, Oriol Junqueras, who is in custody while on trial over the 2017 independence bid, also won a seat in Brussels.
Puigdemont's group, Lliures per Europa, won 2 seats in the European Parliament, with 28% of the vote in Catalonia.
Meanwhile, the Ara Repúbliques coalition with Basque and Galician parties headed by Junqueras won 3 seats, with 21.1% of the vote, behind the Socialists with 22.1%.
In all, the pro-independence parties gained 49.7% of the votes in the EU election, with almost 100% of the votes counted.
Puigdemont's reaction
Winning a seat in the European Parliament shows "the strength of his project" from "exile," according to former president Carles Puigdemont, who said the victory was the "winning strategy" for the independence movement.
Puigdemont also said the result was a testament to the "persistence" of the efforts towards independence, and pointed to the defeat of Spanish foreign minister and unionist, Josep Borrell, calling on him to listen to"the voice of the October 1 referendum."
Puigdemont's Lliures per Europa ticket got the most votes in Catalonia, some 950,000, winning two seats in the European Parliament, which will be taken up by Puigdemont and his former minister, Toni Comín.
Another former minister and councilor-elect in Barcelona, Elsa Artadi, commented on the "exiled" Puigdemont and "jailed" Oriol Junqueras winning seats in the European Parliament, warning Spain that it can "no longer hide the disgrace of its repression."