How will the Spanish left-wing agreement impact the Catalan conflict?
Socialists and Unidas Podemos might need support of pro-independence parties to launch their joint government, but might also need to engage in dialogue first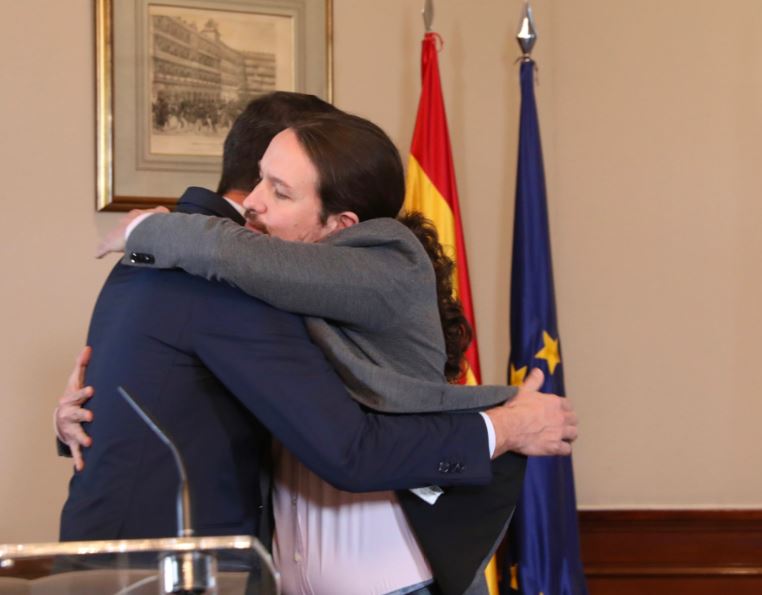 Six months of bitter disagreements between Spain's two largest left-wing parties ended in a repeat general election that produced a seemingly less conclusive result on Sunday, with both groups losing seats.
But all of a sudden, the party leaders were hugging – literally – and signing a preliminary agreement following some discreet talks, barely 36 hours after the results were declared, in a very different situation than that in spring and summer.
If they had reached such a deal before the follow-up election, they would have had the support of enough MPs from minor parties, including Catalan pro-independence groups, to achieve a majority. Yet now, having lost 10 MPs, this will be harder, especially after the conviction of nine Catalan leaders to between 9 and 13 years in jail.
What role will Catalonia play in the talks, and how will this agreement – if confirmed – impact the Catalan conflict?
What does the agreement say on Catalonia?
"A priority of the Spanish government will be guaranteeing social harmony in Catalonia and normalizing political life," says the agreement's ninth bullet point. But how will they do that? "Dialogue in Catalonia will be fostered, seeking ways of understanding and engagement, always within the Constitution."
The idea of emphasizing a problem of coexistence might come from the Socialists, while the need for dialogue might have been introduced by the other party involved in the deal, anti-austerity Unidas Podemos – this duality might be the trend during the new government's term. But let's not get too far ahead, because first the Socialists' leader, Pedro Sánchez, needs to be sworn in.
Will pro-independence parties back the deal?
With 155 seats, Sanchez's PSOE and Unidas Podemos are 21 MPs short of an absolute majority. In a very optimistic – for them, at least – scenario, they could easily gather 14 more votes of support. Yet, they would still need the abstention of either Ciutadans – whose dramatic losses resulted in the resignation of its leader – or at least one Catalan pro-independence party (if they got less than these 14 supports, the math would even be more difficult and the Basque pro-independence party might have to get involved).
Ciutadans has been accusing Sánchez of heading a "gang" and of making secret deals with "totalitarians" – which is what it calls the pro-independence groups. So, that can be ruled out.
Nor can Sánchez count on the pro-independence JxCat and CUP either, as the former accuses Podemos of "sacrificing Catalonia" with the deal, while the latter explicitly ran in the election to "block" Spain's politics.
Esquerra, whose president is in jail for the 2017 referendum, is the only option left. Before the jailed leaders' conviction, it was open to abstaining, but now the judicial ruling has changed everything.
The pro-independence party is calling on the future government to set up a bilateral space for political dialogue between Catalonia and Spain. The same condition, but including the need for a mediator, contributed to sending Spain to an early election – which ended up being two – in April.
What are the issues on Catalonia facing the future Spanish government?
Jailed leaders: the man expected to become Spanish vice president, Pablo Iglesias (Podemos), has called the Catalan jailed leaders "political prisoners." But Sánchez has strongly rejected that description. Iglesias and the Catalan branch of Podemos have said they are open to a pardon or passing an amnesty law. Yet, Sánchez has said he will "guarantee" the whole sentence is served. In the meantime, pressure from pro-independence parties and civil society continues.
Dialogue: the preliminary agreement makes a commitment to dialogue, but to what extent and how deep it might go remains unclear. The last effort from Sánchez to sit at a negotiation table with Catalonia lasted half a year at the end of 2018 and the beginning of 2019.
Referendum: the pro-independence parties' second-most important dream – the first one being a seat at the UN plenary session – would be for Sánchez to sign an agreement with Catalan president Quim Torra along the lines of that between David Cameron and Alex Salmond in the UK, which agreed an independence referendum for Scotland. Sánchez contributed to suspending Catalonia's self-rule after the 2017 unilateral referendum, and he maintains that this is not possible under Spain's Constitution. Sánchez insists that a vote on enhanced self-rule has to take place, but without independence ever being an option on the ballot. Iglesias has always defended such a vote, but as a multiple choice: Yes, No, and No but more autonomy for Catalonia. Their preliminary agreement states that any deal with Catalonia has to be within Spain's Magna Carta.
Calming the streets: things have been very intense in Catalonia since the verdict was announced, with demonstrations of all sorts, sometimes of unprecedented force. If the future government in Madrid wants to sort this issue out, it might have to check the previous three bullet points first.