How Catalan MPs took the Constitutional oath in congress
Controversy over pro-independence MPs asking for "freedom for political prisoners" and for "the Catalan republic"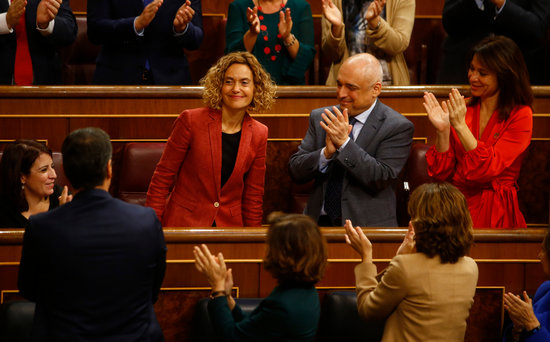 The normally symbolic opening day at Spain's congress on Tuesday peaked with the MPs taking the constitutional oath – something supposed to be straightforward, with lawmakers answering to their names read out loud by saying 'yes, I swear' or 'yes, I promise.'
Yet, the times when this was a mere formality are gone.
After Catalan Socialist MP Meritxell Batet was reelected as congress speaker, lawmakers took the chance to add their message in the 'I swear' or 'I promise' oaths, with the Catalan pro-independence ones causing the most murmuring in the chamber. Most of them mentioned the jailed 2017 referendum leaders and referred to independence in one way or another – leading to a similar controversy to that of the latest such oaths.
Gabriel Rufián, the leader of Esquerra, the winning party in Catalonia in the last general election, took the oath, "for the political prisoners' freedom, for the Catalan republic and out of legal obligations." Montse Bassa, also an MP and a sister of one of the jailed politicians, Dolors Bassa, referred to the female "political prisoners."
Laura Borràs, heading the other mainstream pro-independence force, Junts per Catalunya, mentioned the "October 1 mandate," in reference to the 2017 independence referendum. She also asked for the release of the leaders.
The frontrunner of far-left pro-independence CUP, Mireia Vehí, took the oath "with first and last loyalty to our people, and out of legal obligation." The other CUP MP, Albert Botran, mentioned the "sovereignty of the Catalan people."
The rest of the MPs stuck to traditional formulae, adding phrases like 'for Spain' or, left-wing En Comú Podem's Gerardo Pisarello, 'for the 13 roses,' referring to the 13 female youngsters killed in Madrid in 1939 by Francisco Franco's fascist dictatorship, which had won the Spanish Civil War a few months prior.
Spain's right wing threatens to take oaths to courts
After the oath, the three main Spanish right-wing parties took the floor to criticize the speaker accepting all oath formulas.
The People's Party leader, Pablo Casado, announced that they will take the issue to the Constitutional Court, with the far-right Vox leader, Santiago Abascal, suggesting the same path. "Some MPs have committed an act of conspiracy against constitution."
Unionist Ciutadans' Inés Arrimadas said some of the oaths included "serious insults to democracy."
"Some have said that there are political prisoners here, meaning that judges have committed a breach of duty."