Catalan Socialist Meritxell Batet, reelected Spanish congress speaker
Lawmaker gets second mandate as third most important authority in Spain after being speaker in failed term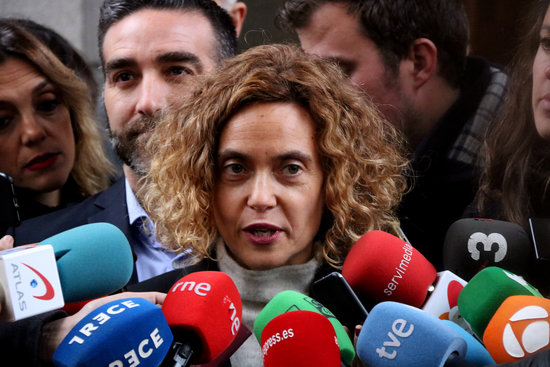 The head of the Catalan Socialists in the Spanish congress, Meritxell Batet, has been reelected as chamber speaker.
During the Spanish parliament's opening session on Tuesday, congressional lawmakers elected her in the second round of votes after falling short of obtaining an absolute majority in the first one.
Batet, the Socialists' frontrunner in Barcelona for the November 10 election, was already congress speaker during the past term – but only for few months since lawmakers were unable to pick a new Spanish president, leading the country to a snap election.
The Catalan MP prevailed with 166 votes in favor (an absolute majority is at 176), ahead of the People's Party's Ana Pastor with 140. There were 29 not valid votes and 11 were blank.
The congress speaker (also known as congress president) is the third-highest office in Spain following those of the monarch and the president of the government, serving as both the chair and leader of the legislature.
In the senate, Madrid-born Socialist MP and judge specializing in sexist violence Pilar Llop was elected speaker. She replaces Catalan Socialist Manuel Cruz, who will remain as a senator but no longer be the head of the upper chamber after a brief stint during the failed 2019 term.
Catalan MPs
Of the 48 Catalan MPs in congress, only the Socialists and En Comú Podem, the Catalan branch of anti-austerity Podemos, supported Batet, with the rest voting for other candidates, voting in blank or casting not valid votes.
Pro-independence Esquerra and JxCat wrote 'freedom' on their ballots instead of names, while CUP members wrote 'amnesty and self-determination'.
Mention to jailed leaders
Before Batet was elected, the oldest MP, the Socialist Agustín Zamarrón, acted as temporary speaker, and the youngest, Esquerra's Marta Rosique as secretary.
Rosique, wearing a T-Shirt reading 'independence' with the colors of the flags of Catalonia, the Basque Country and Galicia, mentioned the names of the Catalan jailed leaders that have not been allowed to run in the election when reading off the names of the MPs-elect.
Zamarrón gave her a warning and clarified that Oriol Junqueras, Jordi Turull, Josep Rull and Jordi Sànchez are not MPs.
Batet invokes "loyal dialogue"
In her opening speech as chamber head, Batet stressed the importance of "respect and real dialogue". She underlined that despite the increased political fragmentation of the Spanish congress (never before has the chamber had so many different parties), dialogue should remain the basis of politicians' work.