Former parliament speaker forgoes civil distinction over Twitter row
Núria de Gispert gives up prestigious Creu de Sant Jordi award after reposting tweets comparing unionist politicians to pigs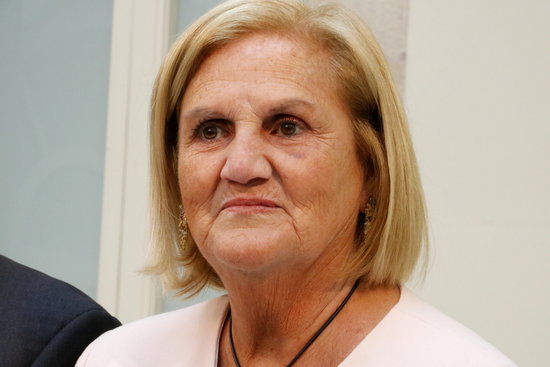 The government has accepted the decision of former parliament speaker, Núria de Gispert, to decline the Creu de Sant Jordi awarded to her last week, due to a controversy on Twitter.
One of Catalonia's highest civil distinctions, the Creu de Sant Jordi is awarded each year to a select group of individuals in recognition of their contribution to Catalan culture and identity.
The controversy arose over tweets comparing certain unionist party politicians to pigs that De Gispert reposted two days after being nominated for the prestigious award.
Despite apologizing and deleting the tweets, and receiving support from president Quim Torra, the calls for De Gispert to be stripped of the distinction continued.
History of insults on Twitter
De Gispert has a history of insulting politicians on Twitter, particularly those against independence, and recently called the head of the PP party, Pablo Casado, "stupid."
She also recently called PP's Barcelona candidate, Cayetana Álvarez de Toledo, an "idiot" and labelled Catalonia's top Socialist candidate, Meritxell Batet, a "sell-out."
Yet, her most frequent target is the former Cs party head, Inés Arrimadas, who she often tells to go back to Cádiz (Arrimadas is from Jerez de la Frontera in the Andalusian province).
Open letter to the government
The former Catalan parliament speaker announced her decision to forgo the distinction in an open letter published in 'El Punt Avui' newspaper on Monday evening.
On Twitter, the government spokeswoman, Meritxell Budó, responded by thanking De Gispert for her letter, saying that her decision to give up the award "honored her."
A recipient of the Cross of Merit to the Service of the Spanish Advocacy and the Medal of the Bar Association of Barcelona, De Gispert served as parliament speaker from 2010 to 2015.