Fèlix Millet, mastermind of corruption scandal that shook Catalonia, enters prison
The former president of the Palau de la Música is sentenced to 9 years and 8 months for embezzling 23 million euros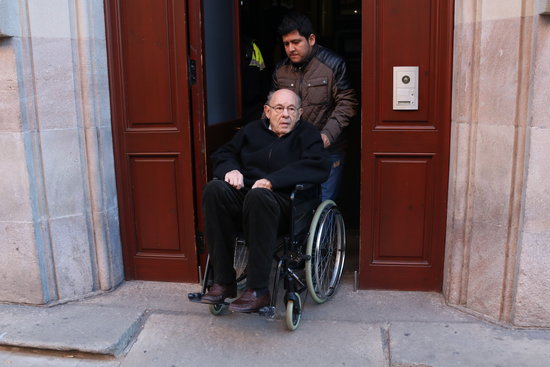 Fèlix Millet, the former president of Barcelona's Palau de la Música concert hall, entered prison on Thursday afternoon to serve a sentence of 9 years and 8 months for masterminding Catalonia's biggest corruption scandal in decades.
The Catalan high court found Millet and the former treasurer of the institution, Jordi Montull, guilty of embezzling 23 million euros, a ruling that was confirmed by Spain's Supreme Court in April.
Montull entered the Brians 2 penitentiary facility to serve his sentence on Monday.
Following a Supreme Court ruling, Millet and Montull will have to return the money to the institution.
The case also involved Catalonia's decades-long ruling CDC party, a defunct predecessor to PDeCAT, one of the organizations that is part of Junts per Catalunya, the pro-independence group governing Catalonia with Quim Torra as president.
The Supreme Court lowered the sentence of the former treasurer of CDC Daniel Osàcar from four years and five months to three years and six months in prison.
Osácar also entered prison on Thursday, a few hours before Millet was transported to the penitentiary center in an ambulance.
CDC was found to rig public tenders in exchange for commissions to illegally finance itself with money that was transferred through false concert hall donations.
What is the 'Palau case'
The 'Palau Case' included 16 defendants but implicated two men in particular, Fèlix Millet and Jordi Montull.
The case began in the early 2000s, when anonymous reports were made to the Catalan Tax Agency about irregularities in the finances of various Catalan cultural institutions, including the Palau de la Musica concert hall, the Orfeó Català choral society, and the Consorci del Palau, the public entity that manages the institution.
After the unprecedented sight of Catalan police officers entering the modernist concert hall, Fèlix Millet and Jordi Montull publicly admitted they had diverted funds from the cultural entity into their own bank accounts.
Weeks later, they were summoned to court and charged with misuse of public funds, falsification of documents, money laundering, and tax fraud, among other offenses.
Both Millet and Montull confessed to using the funds for their private expenses, such as home renovations, household appliances, family trips, and even Millet's daughter's wedding.
They did so through falsifying invoices and withdrawing cash from the fund's account in anything from checks to gold bars.
Montull's daughter, Gemma, who was also charged, had been sentenced to 4.5 years in prison, but Spain's top judges reduced her sentence to 4 years with a 2.6 million euro fine for money laundering.