EU court rejects final appeal of independence leader Junqueras to see MEP status returned
Politician gained seat after 2019 EU election but got it stripped due to his conviction for 2017 referendum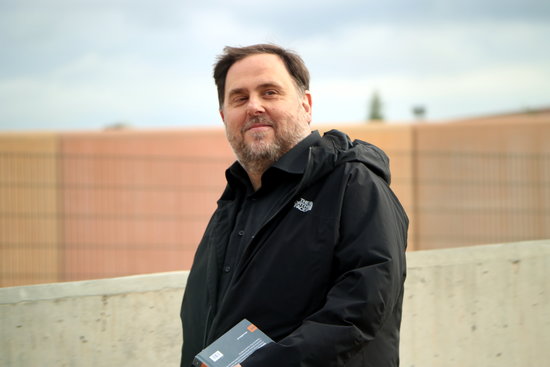 The European Court of Justice has rejected the Catalan independence leader Oriol Junqueras' final appeal, who was seeking to see his MEP status returned after losing it in 2020.
The European Parliament stripped it after the Spanish Supreme Court informed the chamber that it had sentenced him to 13 years of prison and disqualification for his role in the 2017 referendum and independence push.
On Thursday, the EU magistrates argued that the parliament's decision cannot be appeal because it was "merely informative" of a decision made by the Spanish top court.
The ruling has sided with the chamber in Brussels and Strasbourg, which had argued that it is part of the member states' electoral law to determine who is eligible to have an MEP status.
Junqueras barred from seat despite being elected in 2019
Junqueras, who was the Catalan vice president during the 2017 referendum, was allowed to run in the May 2019 European election despite being in pre-trial prison for organizing the vote. In October that year, he was convicted to 13 years behind bars for sedition and misuse of public funds.
While the ERC politician won a seat in the election, the Spanish authorities did not confirm his status as he was not granted provisional leave from prison to take an oath on Spain's constitution.
On December 19, 2019, the European Court of Justice confirmed he had immunity as an MEP-elect. The EU chamber then accepted his seat on January 6, 2020 with effect from July 2, 2019, but three days later, Spain's Supreme Court denied that he had immunity on the grounds that the ECJ decision applied to the time when he was in provisional detention awaiting sentencing. According to the judges, since he was sentenced to prison and disqualified from public office in October 2019, he no longer had the right to be MEP.
A day later, on January 10, 2020 the European Parliament stripped him of his MEP status with effect from January 3, when the Spanish electoral board first brought the issue up before the Supreme Court's final decision.
Junqueras then announced he would challenge the decision in the Court of Justice of the European Union, which dismissed his case in December 2020 and, after his final appeal, has now rejected it again.
In 2020, the Catalan leader said he was ready to take the case to the European Court of Human Rights, independent from the EU institutions.