EU chamber head willing to 'review' opinion on barred Catalan MEPs after court rules
European Court of Justice is due to rule whether jailed leader Junqueras has right to seat in Brussels, with implications for Puigdemont and Comín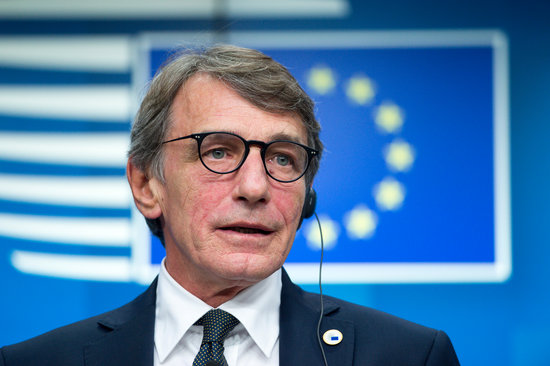 The European parliament president will be willing to "review" his opinion on the status of the Catalan pro-independence leaders prevented from taking up their seats as MEPs in the EU chamber "if it's necessary."
Speaker David Sassoli pledged to "comply with the law," if the European Court of Justice (ECJ) upholds the challenge of jailed leader, Oriol Junqueras, and rules that his mandate - and of two other MEPs - formally began when the election results were announced.
Junqueras, along with former Catalan president Carles Puigdemont and former minister Toni Comín, who are both in exile in Belgium, won seats in the European elections in May, but have so far been unable to take up their seats as MEPs.
From prison in Spain, where he is serving 13 years for his role in the 2017 independence bid, Junqueras challenged the EU chamber's decision not to recognize him as an MEP, arguing that his term in office should begin from the moment he won his seat.
Last week, the advocate general of the ECJ gave his opinion that Junqueras has the right to be a Member of the European Parliament, but as the opinion is not binding, Sassoli said he would be open to changing his stance only when there is "a judicial ruling."
Puigdemont and Comín call for 'provisional' recognition
The ECJ's final decision on Junqueras will have implications for Puigdemont and Comín, who in a joint letter on Thursday called on the European Parliament to "provisionally" recognize them as MEPs while the court comes to a decision.
In the letter addressed to Sassoli, the chamber's bureau and its Committee on Legal Affairs, the lawyers of the exiled Catalan leaders point to the advocate general's opinion, saying it is "of great relevance" for their case, which they argue is "analogous" to that of Junqueras.
Despite winning seats in the May election, neither Puigdemont nor Comín were included in the official list of Spanish MEPs sent to Brussels from Madrid, but they were included in a previous list announcing the results of the election in the official gazette.