Catalonia's rent cap law comes into effect on September 22 – here's all you need to know
Regulation affects 60 municipalities with "tense housing markets" including Barcelona and other major cities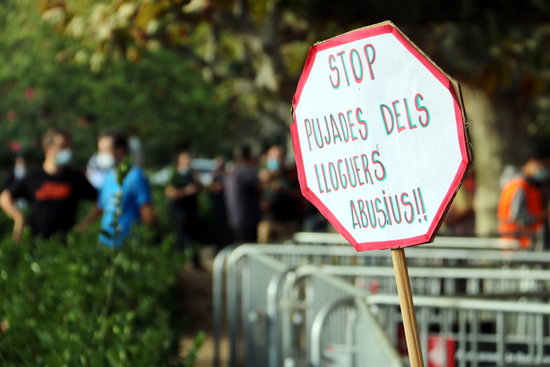 On September 9, the Catalan parliament passed a law regulating rent prices – a historic win for housing rights activists that has drawn the ire of opposition parties, one of which has already pledged to challenge it in Spain's Constitutional Court, as well as the real estate lobby.
The approval of the law was much celebrated by tenants' rights associations, including the Sindicat de Llogateres who helped draft the regulation, as rent prices have increased by a staggering 36% in Catalonia from 2013 to 2019. In Barcelona, this rise is even more drastic: 43%, or an average of €297.25 per apartment, over the same period.
Coming into effect on September 22, the rent cap affects 60 cities and towns with over 20,000 inhabitants and with "tense housing markets," including the major cities of Barcelona, Girona, Lleida, and Tarragona. All 60 of these municipalities have seen average rent prices increase by at least 20% between 2014 and 2019.
In these areas where affordable housing is scarce, rents will be determined by the Catalan Housing Agency's Average Price Index – you can look up relevant information on the size and the year your building was built online at the Spanish land registry website to see how your rent compares to others in the area.
To see how this new law could affect your living situation, take a look at the following Q&A.
What qualifies as a "tense housing market"?
A municipality or part of one will be considered to have a "tense housing market" if it meets any of the following requirements:
It has experienced a sustained increase in rent prices that is higher than Catalonia's average

If rents exceed 30% of a household's average income or over the average income of people under 35

If rent has increased by 3 points above the consumer price index in the past five years
I signed a contract before September 22. Does this law apply to me?
No, the rent cap law only applies to new contracts signed from September 22.
I am about to sign a rental agreement for my second home. Does this law apply to me?
No, the law only applies to usual places of residence and not holiday homes.
I will soon be signing a new contract for my main place of residence. How does this law affect how much I will pay per month?
If you are signing a new rental contract for a house or an apartment that was rented out over the past five years under market value as determined by the Average Price Index, your landlord will not be able to increase rent.
For other new contracts, rent will not be able to exceed the average price for apartments and houses of the same size in the same area.
I currently pay over the average rent for homes in my area. Will my rent go down?
No, the law does not affect existing contracts.