ERC request Junqueras be included as election candidate as public office ban provisionally lifted
Spain's Supreme Court has put a hold on the Catalan's political disqualification while awaiting a European ruling on his case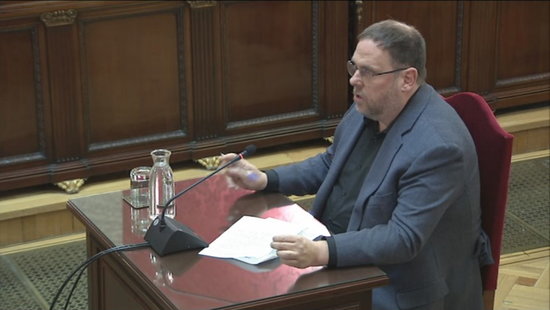 Esquerra Republicana (ERC) has requested the Spanish electoral authority to include their jailed leader, Oriol Junqueras, in the list of their candidates for Sunday's general election after being notified by the Supreme Court that his ban from public office has been put on hold while his case is heard in the European Court of Justice.
Junqueras was barred from holding public office as part of the sentence of the Catalan Trial, but the decision from the electoral authority opens the door to the imprisoned former Catalan vice president potentially running in the Spanish general election. If he is permitted to run, he will substitute Gabriel Rufián as the number one on their list for Barcelona.
The advocate general of the European Court of Justice will give an opinion on the parliamentary immunity of Junqueras on November 12.
Oriol Junqueras is in a unique position among the political and civic leaders jailed for their roles in the 2017 independence push, as he was also elected as a member of the European Parliament (MEP) in May. He has not been able to take his seat in the European chamber as authorities would not let him leave prison to complete the formal process and officially become an MEP, which would afford him parliamentary immunity.
He and his legal team argue that parliamentary immunity comes into effect the moment he is elected in the vote, and therefore should be released from prison. The case is now being examined by the European Court of Justice, leading to Spain's Supreme Court now provisionally lifting Junqueras' ban on holding public office.
The electoral authority is expected to announce their decision on the matter either on Friday or possibly on Sunday - the day of the general election.
Esquerra Republicana is expected to be the most voted party in Catalonia, followed by the Catalan Socialists and Catalunya en Comú. Polls also suggest that ERC's allies in the Catalan government, JxCat, would lose seats, as would Ciutadans and Vox.