Dialogue with vote, mediator: pro-independence conditions to back Spain's government
Catalan Socialists propose recognizing Catalonia as a nation and Spain as a plurinational state, and urge discreet talks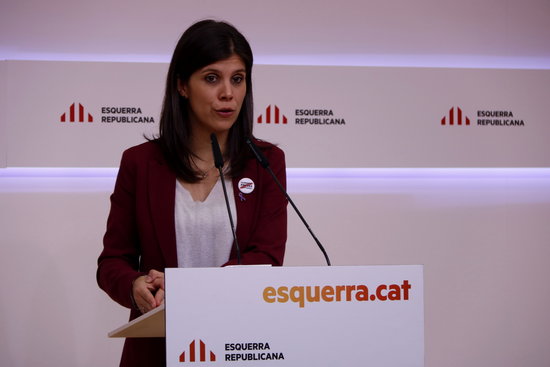 Catalan pro-independence parties remain central to Spain's path to picking a president and launch their term after two elections, as the Socialists and Unidas Podemos are so far falling short of support.
Esquerra party – seen as more willing to back Spain's left-wing coalition – held an internal vote on Monday of its members to ask them whether they back supporting Socialist Pedro Sánchez's presidency only if talks over the Catalonia crisis between governments are launched. And the result was clear: with a 70% turnout, 94.6% of its members backed this option.
Esquerra's four conditions
With the landslide 'Yes,' as an outcome, Esquerra is beginning talks with the Socialists to discuss their support of Sánchez. And their senior official Pere Aragonès has already made their conditions clear: talks over the underlying crisis between governments and not parties, capacity to propose anything without limits – Esquerra proposes an independence vote and amnesty for the jailed leaders –, and a meeting between cabinets before the vote on Sánchez's presidency. The pro-independence forces have also proposed that whatever agreement the talks reach needs to be voted on by Catalans.
Spain's Socialists would have enough votes in the Spanish Congress with Esquerra's support in order for them to stay in power. But at the same time, Esquerra is trying to find an agreed stance with the other two parties for a Catalan republic: Junts per Catalunya (JxCat) and CUP.
Talks without limits, referendum, amnesty
JxCat also set some conditions on Monday in order to back the Spanish left-wing deal: talks between governments also with no limits, with the negotiations including an international mediator, and recognizing as interlocutor their party's leaders, the current president Quim Torra, and his predecessor, Carles Puigdemont, who is now in exile.
Far-left CUP sets the bar even higher, with a referendum on self-determination and amnesty for the jailed leaders as conditions.
Recognizing Catalonia as a nation
Meanwhile, the Socialists are open to engaging in talks with Esquerra in order to discuss Spain's presidency, but their Catalan version has warned that they will not engage in any talks "out of respect."
So far the party has not released their views on the pro-independence conditions, except for their flat rejection of an independence referendum.
Yet, the Catalan Socialists have proposed recognizing Catalonia as a nation, and Spain as a plurinational state. Their head, Miquel Iceta, also said that the Catalan crisis will only be solved through "dialogue, negotiation, and an agreement with total respect for the current legal framework." Iceta has expressed "optimism" in ending the deadlock in Spain with Esquerra's support.
Socialist and En Comú Podem members support deal
Members of Spain's Socialist party have given the go-ahead to a coalition government with Unidas Podemos with 92% of the votes, while the members of the latter are holding a similar vote ending on Tuesday – an overwhelming Yes is also expected, as their Catalan allies En Comú Podem did.