Dialogue still the way forward, say Catalan public in survey
La Vanguardia survey reveals that 82% of Catalonia citizens back negotiations despite previous failings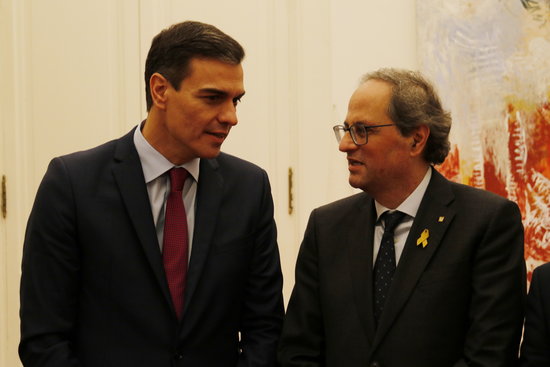 82% of Catalans feel that the best foot forward for the Catalonia crisis is dialogue, according to a survey led by La Vanguardia newspaper.
Meanwhile, a majority of Spanish citizens also felt that this was the best option. 59% favoured dialogue, with just under 33% instead backing the implementation of the controversial Article 155 of Spain's constitution, which would give Madrid control over Catalonia.
Unsurprisingly, just 11% of Catalan citizens see this as a potential solution. As for a referendum, the states remain divided, with 64% of Catalans in favour and 51% of Spaniards against.
Although views of a more peaceful approach to matters are echoed by Catalan leaders and exiled leaders alike, the Catalan public maintains that this is the most viable path despite Pedro Sánchez and Quim Torra's turbulent past.
Indeed, Torra himself as called for a "democratic, peaceful confrontation" with Spain. Meanwhile, exiled Esquerra secretary-general Marta Rovira has reiterated this, arguing that "confrontation" and "dialogue" can go hand in hand.
However, previous dialogue between Spanish president Sánchez and Catalan president Torra is yet to prove fruitful - in fact, quite the opposite.
Negotiation appears most viable option despite previous failings
Talks that began after Sánchez took office in June 2018, but quickly deteriorated as Torra and Sánchez's differences in political alignment and over the independence movement became clear.
By July, Torra was threatening Sánchez, demanding that he sway in favour of Catalonia's self-determination in exchange for his own support for Sánchez's investment propositions. By August, Sánchez had once again ruled out a referendum. By December, Torra implored Catalan citizens to be "willing to do anything to live freely", citing the Slovenian independence movement as a reference.
Sánchez subsequently took an even harder stance against Torra and Catalan independence, and talks broke down early in 2019, with Sánchez threatening national rule over Catalonia via Article 155. Sánchez has since failed to form a government after losing support from parties in Catalonia, leading to a fourth general election in four years in Spain.
Spain and Catalonia divided over verdict
With the 2017 referendum case verdict looming, Catalonia and Spain were also at odds. The politicians were supported by almost 65% of Catalan citizens, while 55% of Spaniards felt that the violent protests should signify a guilty verdict.