Political conflict with Spain 'implies confrontation,' says exiled leader Rovira
"On an international level I realize that we must embrace the path of dialogue and negotiation"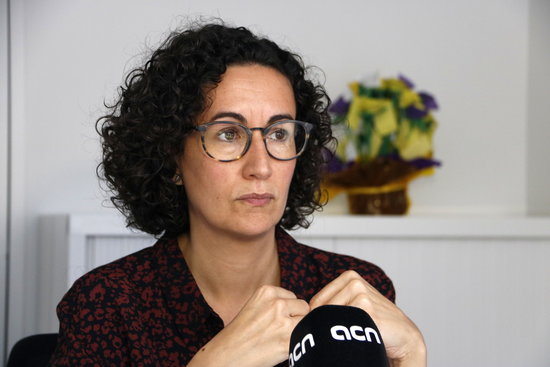 Confrontation and negotiation with Madrid as Spain's "repression" continues. This is pro-independence party Esquerra's secretary-general Marta Rovira's way forward in the bid for Catalan independence.
The exiled leader moved to Geneva, Switzerland the night before being summoned by the Supreme Court on March 22, 2018 over the 2017 referendum. She thus avoided an almost certain preventive detention pending a trial.
In an exclusive interview with the Catalan News Agency, Rovira echoes the calls of Catalan president Quim Torra for a "peaceful and democratic confrontation" with Spain.
"We are in political conflict, and this implies confrontation, even though it is never wanted or voluntary," she says from the Swiss city.
Esquerra party has had some recent disagreements with Torra's Junts per Catalunya party over the way forward for the independence movement, because it still prioritizes negotiations with Madrid. For the president, however, it is naïve to believe that talks with any Spanish government will result in an independence referendum.
Yet for Rovira both "confrontation" and "dialogue" can go hand in hand.
"At an international level I realize that we have to embrace the path of dialogue and negotiation with [Spain's president] Pedro Sánchez, even though it often seems that this way still has no representative at the other end of the table."
Spain's "repression"
Even though Esquerra's second-in-command believes that negotiation is the best option, she says Spain is further complicating matters by repressing the pro-independence movement.
"Dialogue can be used in this political conflict. But we need to take into account that this dialogue and negotiation path always implies that we will never give up our political aims, and we must also consider that it happens in a situation of political repression," she says. "[Spain] being ready to use repression as a political tool means that this repression will continue."
And for her, given the circumstances, the pro-independence campaigners "need a strategy against repression."
Extradition attempt
Ahead of the nine political and jailed leaders' verdict this autumn, she says that a potential guilty ruling will "make matters worse."
During the interview with the Catalan News Agency, Rovira also suggested that after the court decision, Spain may try to extradite her, former president Carles Puigdemont and other leaders again after two failed attempts.
As a response to a potential guilty verdict, she said that should there be a guilty verdict, a snap election in Catalonia would only be an acceptable repsonse if it contributes to "strengthening" its institutions.
Reactions
The opposition parties, whether pro-independence or unionist, were skeptical at Rovira's words.
"Their only joint project is to leave Spain with this confrontation. Ms Rovira repeated the same words said by President Torra few days ago," said the leader of the opposition, unionist Cs MP Lorena Roldán.
In the other end of the political spectrum, far-left pro-independence CUP MP Maria Sirvent said they "strongly agree" with Rovira, but say this stance is not mirroring in the government's actions.