Court battle leaves Catalonia set for an uncertain election despite Covid-19 concerns
Judges force February 14 vote preparations to resume, hinting at rejection of adjournment for health reasons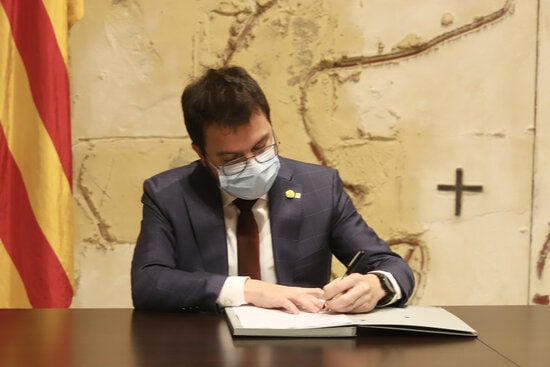 Catalonia is set for one of its most uncertain elections ever. Over the past week, preparations to hold the vote on February 14 were halted over Covid-19 concerns, only to resume again when a court agreed to hear legal challenges against the delay ordered by the Catalan government.
Judges could still accept the adjournment, a decision that could come as late as February 7, ten days into the election campaign and only one week before the vote.
But that seems unlikely. On Friday, details emerged from the Catalan High Court (TSJC) ruling ordering that February 14 preparations provisionally resume while judges made a final decision. This was not good news for the Catalan government.
In the documents, TSJC magistrates alleged an "intense public interest" in holding the election as soon as possible, in order to end the "standstill" and "institutional precariousness affecting the legitimacy of the Catalan government."
After years of political infighting between the two ruling pro-independence parties, the sentencing of president Quim Torra for disobedience and his removal from office last fall was seen as the final blow to the government and as inevitably leading to a new election. But subsequent coronavirus outbreaks made health experts wary of the risks of calling millions of people to gather in polling stations.
Judges also argued that mobility restrictions currently in place do not prevent voters from taking part in an election, as would a total lockdown. Moreover, the state of alarm decree passed by the Spanish government foresaw the possibility of holding elections during the pandemic.
On Thursday, Spain reported a record high of 44,357 new infections. Catalonia saw 131 new deaths the following day, its highest death toll of the third wave of the pandemic.
Spain's health minister Salvador Illa, who will leave his post to run in the Catalan election as the Socialist candidate, conceded that the latest coronavirus figures were "not good", but rejected regional calls to allow tighter measures.