Catalonia officially delays election until May 30
Parties agree on postponing vote due to Covid-19, but discrepancies remain regarding date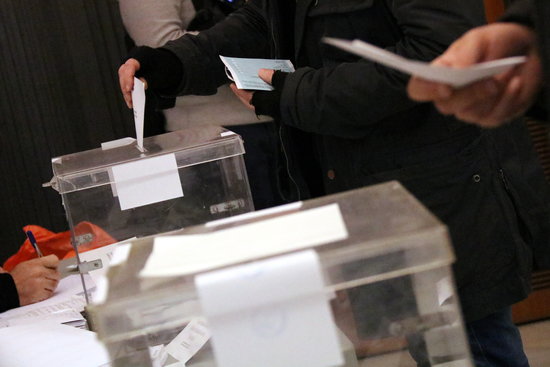 The Catalan election has been officially delayed until May 30, as was announced by interim president Pere Aragonès and government spokesperson Meritxell Budó on Friday evening after an all-party summit in Parliament found consensus on the need to postpone the vote as Catalonia is currently facing a sharp worsening of the health crisis.
Only a few weeks ago, the election postponement seemed highly unlikely, especially one following an agreement across party lines, but a third wave of Covid-19 infections and rising hospitalizations triggered the alarm. Last Monday, Catalonia reported 6,981 new cases, the highest daily increase since the pandemic started.
Yet, there were still some discrepancies during the summit, as the Socialists argue that polling stations should open on either March 14 or March 21.
Socialists might take issue to court
However in the end, a "majority" of parties accepted May 30 as the new date, according to several parliamentary sources, but it is understood that the Socialists still insist on the need to not wait as much time.
The Socialist party, which soared in the polls after changing presidential candidate and picking Spain's health minister Salvador Illa, was initially reluctant to a vote delay. Yet, on Thursday evening, they reconsidered their position.
Party leader and initial candidate Miquel Iceta criticized the delay. "It is not a response to epidemiologic reasons," he said, not ruling out taking the move to courts if changes in electoral lists are allowed.
The Socialist-led Spanish government avoided commenting on the delay on Friday, one day after Spain's justice minister, Juan Carlos Campo, said it would be "serious for democracy" to put it off.
Most opposition parties agree
Other opposition parties, such as Ciudadanos and Catalunya en Comú, expressed their agreement after the summit.
"Common sense has prevailed," said Cs leader, Carlos Carrizosa.
"Yes to May 30 and to a safe election, this way we are guaranteeing the right to health and to vote," said Jéssica Albiach's Catalunya en Comú - Podem.
The People's Party agrees on the change, but its leader, Alejandro Fernández, said the move has been orchestrated by former president Carles Puigdemont for electioneering reasons and urged for the government to avoid it happening again.
Far-left CUP also accepted the delay, with its candidate Dolors Sabater not against May 30.