Controversy over alleged attack for removal of signs supporting jailed leaders
Hardline unionists claim a political motive although both of the people involved deny it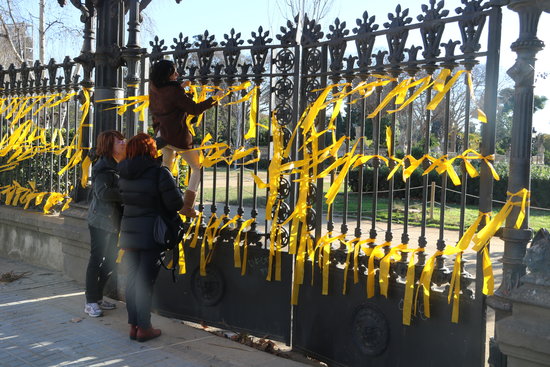 Yellow bows showing support for the jailed Catalan pro-independence leaders are once more hitting the headlines in Catalonia and have become the focus of a political storm.

The main unionist party in the country, Ciutadans, is to report an alleged attack on a woman whose child was removing yellow bows, for the prosecutor "to investigate whether there has been a hate crime," said party leader, Inés Arrimadas.

Ciutadans directly link the attack to the independence movement and has called a protest for this Wednesday.
The People's Party also relates the aggression to the independence push and the leader in Barcelona, Alberto Fernández Díaz, has announced that his party will open an office to "support" those sued, fined or attacked for tearing down yellow bows.
"We were right when we said that this [independence push] would cause a serious social fracture. The social fracture in Catalonia is a reality," said Arrimadas, who added: "In order to reject this attack, suffered by this woman, and to support her and her family, Ciutadans calls for a protest next Wednesday at 7pm in the place where the attack occurred."
People involved deny political motive
Yet, the position taken by the hardline unionist party clashes with the version of events on Saturday as explained by both of the people involved in the incident. Both of them have denied that the quarrel was politically motivated.