Catalonia officially asks that Barcelona and Lleida move to lockdown easing Phase 2
Tarragona, Ebre region and western Pyrenees requested to begin final step of de-escalation on June 8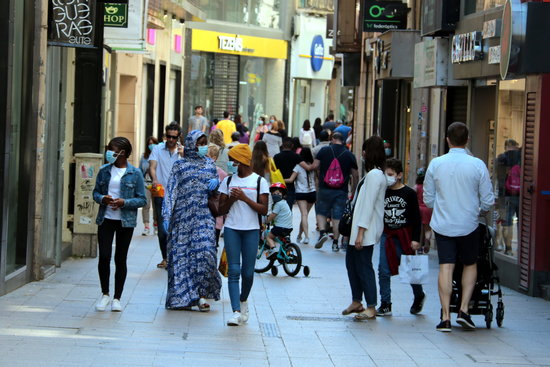 The Catalan government will officially ask that Barcelona, its metropolitan area, and the region of Lleida move to lockdown easing Phase 2 next Monday, June 8.
After having announced its intentions this Monday, sources of the health department confirmed that they will request that Lleida moves forward in the de-escalation process after having been three weeks in Phase 1.
The western Catalan region was denied the progression last week after an increase of Covid-19 new cases was reported, but in the past week the new diagnoses have dropped from 38.4 to 25.4 per 100,000 inhabitants.
Yet, authorities warn that three areas should be especially monitored: the city of Lleida, the Baix Segrià area, and Les Garrigues county.
Catalonia's health ministry said on Monday that it would also ask Spain to move Barcelona city and its metropolitan area also to Phase 2 from June 8 – the whole area is a single health region from this Monday, so traveling in and out of the capital is allowed for its residents and those in the neighboring municipalities.
Also, the Tarragona, Ebre river and Catalan western Pyrenees health regions will move to Phase 3 if Spain accepts the proposal by Minister Alba Vergés' department.
These three territories will have reached the final stage of de-escalation, meaning they will be the first ones fully managed by the Catalan administration again.
Girona, Central Catalonia, and the counties of Garraf and Alt Penedès will remain in Phase 2 for one more week.
New cases in Reus and Seròs
This comes as authorities have reported an outbreak of 23 Covid-19 new cases in an elderly people care home in Reus, in the Tarragona health region.
17 of the new cases are residents in the center, and six are workers – all of them have only "mild" symptoms or no symptoms at all.
Meanwhile, 50 seasonal workers in Seròs, in the Lleida health region, have been isolated because one of their colleagues had tested positive for Covid-19.