Catalan Socialist leader's bid for Senate presidency up in the air
Pro-independence parties do not guarantee support for parliamentary vote appointing Iceta senator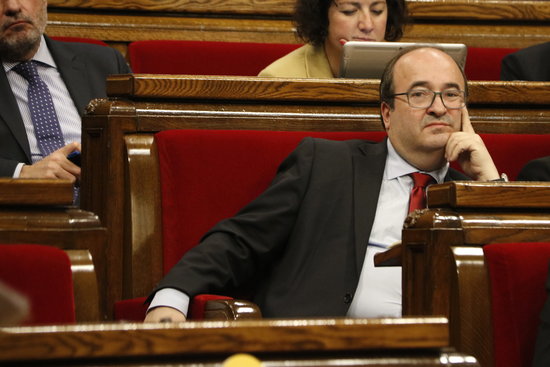 The head of the Catalan Socialist party (PSC), Miquel Iceta, is the preferred choice of Spanish acting president, Pedro Sánchez, to lead Spain's upper house, the Senate.
Yet, it looks as if Iceta's promotion to Senate president is far from a formality, as he must first be appointed as a senator by a majority in the Catalan parliament.
While most senators (208 of 266) are directly elected by the voters, the rest are appointed by regional parliaments, with Catalonia having eight representatives.
Former Catalan president, José Montilla, gave up his Senate seat on Wednesday, to make way for his party leader, but it is unclear whether the chamber will back Iceta to replace him.
For the moment, a plenary session of the Catalan parliament has been called for next Wednesday (May 15) to deal with the issue of Iceta's appointment.
Response of pro-independence parties
What remains to be seen is how the pro-independence parties, which together have a majority in parliament, react to Iceta's bid to be appointed senator.
The Catalan Socialists opposed the independence drive in 2017, and the Senate will be instrumental in how the trial of Catalan leaders in the Supreme Court proceeds.
What's more, the Senate is the house that has to ratify any imposition of direct rule from Madrid, as happened following the independence declaration in October 2017.
"A gesture of commitment to Catalonia"
On giving up his seat, Montilla described Sánchez's nomination of Iceta as a "gesture of commitment to Catalonia" and said it showed a "willingness for dialogue."
Yet, the Junts per Catalunya party (JxCat) has said there is no "urgency" to deal with the issue, while the Esquerra party (ERC) has said it will not support Iceta's appointment.
In fact, ERC was highly critical of Sánchez's nomination of Iceta for Senate president while there are still issues to "resolve."
Effect on Catalan trial
One of them is an upcoming vote in which the Spanish parliament will have to decide whether the trial of the independence leaders continues.
Five of the jailed Catalan leaders won seats in the April 28 general election, and as MPs with parliamentary immunity, parliament has to give permission for the trial to go on.
To complicate matters further, the judiciary must first decide whether such a vote is even necessary, as the leaders were already on trial before being elected MPs.