Catalan parliament ratifies Torra as president despite electoral board calls to oust him
Chamber qualifies attempt to disqualify chief as 'coup d'état,' while Socialists remind guilty verdict on president is not final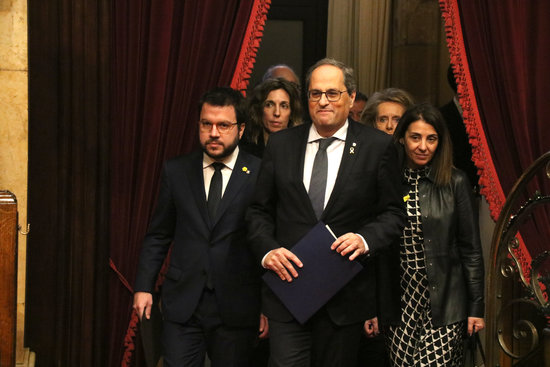 The Catalan parliament has ratified Quim Torra as president in an extraordinary plenary session only one day after the electoral board decided to oust him from Catalonia's top post.
On Saturday late evening, the MPs from the three pro-independence parties – gathering the majority of the seats – voted in favor of a motion reading: "The Catalan parliament rejects the resolution of the electoral board."
It also qualifies the electoral board's decision as a "coup d'état" and accuses Spain of launching a "general cause against the independence camp."
Pro-independence parties also officially demand "the end of repression, the recognition of the right to self-determination for Catalonia, amnesty for the prisoners and free return of exiles."
The motion also backs jailed leader Oriol Junqueras' right to be MEP – the electoral board also decided yesterday to not grant jailed pro-independence leader Oriol Junqueras his MEP seat, despite being elected by citizens on the 2019 European election and being granted immunity as such by the EU court in December 2019.
The only non-aligned party in the independence issue, Catalunya en Comú, presented a separate motion saying the electoral board has gone too far in their powers.
They voted 'yes' to the pro-independence text but only when rejecting the decision on Torra, while abstaining in the backing to Torra. Meanwhile Ciutadans' MPs left the chamber before the vote and the People's Party and the Socialists went for 'no.'
Yet the Socialists also put forward another motion saying Torra's disqualification is not final and is subject to appeals, which was unsuccessful.
While Ciutadans (Cs) and the People's Party did not present any motion, in the previous extraordinary debate to discuss Torra's issue they both welcomed the electoral board's decision, stemming from their legal initiatives.
Cs leader in Parliament, Lorena Roldán, called Torra "former president" and, like the People's Party, questioned whether the Socialists can form a government in Spain enabled by "people who defy the Electoral Authority, the Supreme Court, and the constitution."
During his opening speech, Quim Torra asked how dialogue can be established with Spain if the person supposed to lead the Catalan side is ousted.
"If this chamber does not accept my ousting, I will continue as president. If it does, I won't oppose," he added.