Catalan parliament agrees to 'forum for dialogue" for all parties
Pro-independence motion also passes in face of fierce disagreement from unionists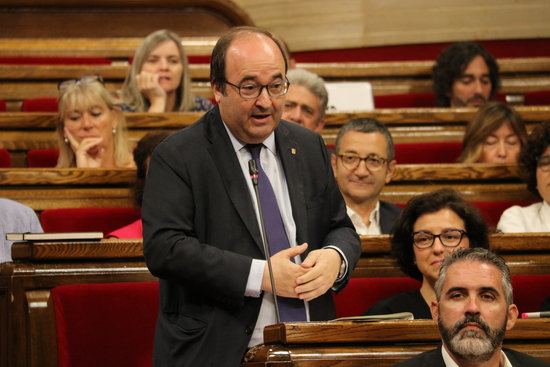 There was a rare example of cross-party agreement in the Parliament on Thursday, when the Catalan chamber passed a motion put forward by the PSC Socialist party urging the government to create "a forum for dialogue" in which all parliamentary groups can seek agreement on the major issues affecting Catalonia.
Despite consistently clashing with the pro-independence camp in recent months, PSC managed to gain the support of the JxCat and ERC parties, along with Catalunya en Comú, for its motion promoting a forum for dialogue in which all of the political leaders in the Catalan chamber will be called on to attend.
According to the Socialists, the initiative is a response to the party's stated aim of seeking solutions to Catalonia's political problems by promoting consensus in allowing a forum for Catalan parties to "look one another in the eye" and put forward and debate possible proposals to help the country overcome the various challenges it faces.
Speaker and opposition clash over CUP motion
Nevertheless, there was also tension in the chamber on Thursday, with Parliament president Roger Torrent clashing with members of the unionist opposition over the tabling of a motion from the pro-independence parties to reaffirm a resolution from 2015 marking the beginning of the political process that led to the unilateral referendum on independence.
With the motion presented by the CUP party receiving the support of the JxCat and ERC parties, which together make up the pro-independence majority in the chamber, it was automatically tabled for debate without going before the parliamentary bureau. This did not sit well with the PSC and Ciutadans (Cs) unionist parties, with their representatives exchanging strong words with Torrent, who insisted the debate would go ahead as planned.
Cs had demanded from Torrent an "urgent and immediate" bureau meeting to reconsider the debate, which it said "contravenes" rulings by Spain's Constitutional Court suspending the 2015 pro-independence resolution. The CUP motion restates the "political objectives" of the resolution and updates it to include the results of the referendum and the December election, which gave the pro-independence parties another parliamentary majority.
Torra: "Only the Catalan republic can free the prisoners"
Cs also clashed with president Quim Torra in Parliament on Thursday, after challenging his decision to visit political leaders transferred this week to prisons in Catalonia. Cs leader, Inés Arrimadas questioned Torra's decision to visit the Lledoners prison. "Doesn't he realise that it is absurd when he has control of the prisons [in Catalonia]?" she asked about Torra. Yet, the president answered saying that the leaders remain in jail under "Spanish legislation": "That is why we want the Catalan republic because only with the republic can we release our prisoners," he said.