Catalan leaders braced for legal battle to take EU Parliament seats
Newly-elected MEPs from exile or prison are expected to face a series of challenges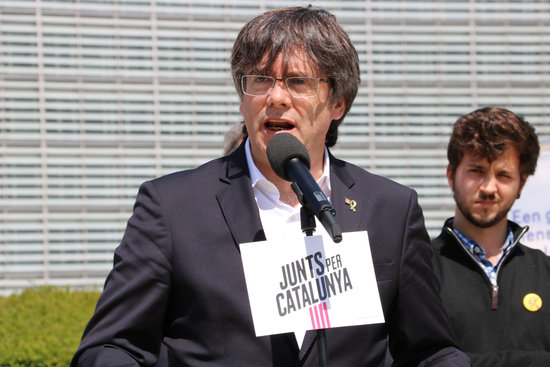 The three Catalan pro-independence leaders elected MEPs on Sunday face the prospect of a protracted legal battle across Brussels, Strasbourg and Madrid for the right to take their seats.
Ousted president Carles Puigdemont and his former minister Toni Comín, who successfully stood as candidates for their Junts per Catalunya party from exile in Belgium, together with Esquerra Republicana leader Oriol Junqueras, currently in prison while on trial for alleged rebellion at Spain's Supreme Court, are likely to encounter separate but equally complicated obstacles to carrying out their duties in the EU Parliament.
Swearing-in
Under Spanish law, newly-elected representatives must swear an oath of allegiance to the Constitution before its central electoral authority, based in Madrid, in order to register as parliamentarians and collect the set of documents they need for taking up public office.
A report by EU Parliament lawyers concluded in April that this practice specifically has to take place in person, which poses problems for the republican trio, as Puigdemont and Comín would be arrested on the same charges relating to the 2017 independence drive as Junqueras, who would require special dispensation from the Supreme Court.
However, former Spanish MEP Jordi Sebastià told the Catalan News Agency (ACN) that he was able to collect his credentials for the EU Parliament before his swearing-in ceremony in Madrid and that, in effect, for him the oath only served as a formality.
The imprisoned former vice-president is expected to receive temporary release for the process, as was the case when he was allowed to swear in as a Spanish MP, but he would first have to give up his congressional seat as the two roles are incompatible.
For Puigdemont and Comín, who would have to renounce their claims to seats in the Catalan parliament, the trajectory is less clear, but they are likely to appeal against the stipulation, noting that physical presence is not compulsory in other EU countries.
Parliamentary appearances
If the Spanish electoral authority is sympathetic to their case, the prospect of taking part in plenary sessions at the EU Parliament, which opens in Strasbourg on July 2, would be more remote for Junqueras, but lawyers for the imprisoned leader might ask permission for him to travel to France should trial proceedings have concluded.
Although MEPs are entitled to parliamentary immunity, this right can be suspended if they are found guilty of a criminal offense. Precedent indicates that the EU would leave the final decision on this most significant legal step to the Spanish authorities.
Although it is the judiciary and not the government which will decide, Spain's opposition leader Pablo Casado has urged president Pedro Sánchez "not to tolerate" Puigdemont's attempts to take his seat and allegedly "undermine the EU institutons."
The conservative People's Party (PP) head also called for an "immediate change in the European Arrest Warrant" to include rebellion and sedition among the criminal charges that trigger automatic extradition proceedings from other countries.
The Catalan leaders will take encouragement from the case of former MEP and Rayo Vallecano football club owner José María Ruiz-Mateos, in which the Supreme Court in Madrid declined to challenge his immunity from allegations of financial misconduct.