Call for amnesty in Catalonia backed by over 250 lawmakers in European and American parliaments
Letter sent to Spain's president demands release of jailed leaders and for charges against pro-independence supporters to be dropped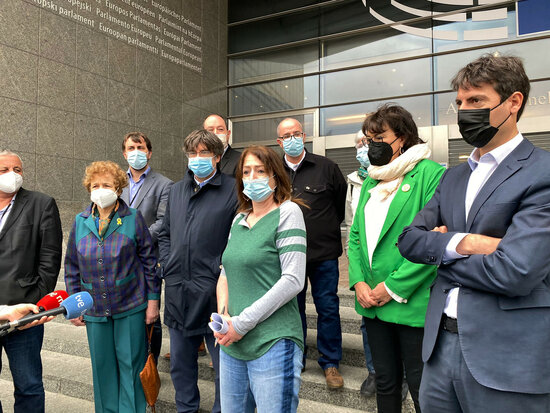 A letter addressed to Spain's president calling for an amnesty for the Catalan independence movement has been signed by more than 250 lawmakers worldwide, including members of the EU parliament, as well as national and regional chambers in Europe and America.
The signatories ask president Pedro Sánchez to take "courageous steps towards normality and the resolution of the conflict by purely democratic means," in reference to the ongoing territorial dispute that saw Catalonia hold an independence referendum in 2017, unleashing a wave of arrests and criminal investigations against political leaders and activists.
"We call on to you to support and promote an Amnesty –with all the required legal and institutional changes– as the outset from which to enable a meaningful and comprehensive process of dialogue and negotiation for a political solution to the conflict, based on democratic principles, mutual respect and fully respecting the democratic rights of the Catalan people," reads the letter.
The letter, which is also addressed to Yolanda Díaz, the third vice president of the Spanish government and head of Sánchez's coalition partner Podemos, has been signed by 50 members of the European Parliament who for years have been vocal advocates for Catalan self-determination.
It has also received the backing of over two hundred politicians serving as members of parliaments in the United Kingdom, Ireland, France, Estonia, Belgium, Luxembourg, Italy, Germany, Portugal, Finland, Czech Republic, Ecuador, Chile, El Salvador, Uruguay, Turkey, Canada, or Iceland.
Many political parties joining the call for an amnesty also share pro-independence ambitions or the defense of political minorities, such as the Bloc Québécois, the pro-Kurd Peoples' Democratic Party (HDP), the Scottish National Party, the New Flemish Alliance, or the Sinn Fein.
While signatories overwhelmingly come from progressive and left-wing political organizations, the letter has also received the support of conservatives and centrist lawmakers.
Irish MEP Clare Daly, who brought the letter to the attention of the European Parliament, urged Spain "to exercise all of the legal and institutional changes that are necessary to deliver an amnesty for the Catalan prisoners, exiled, and persecuted."
Conviction and presidential pardons
In 2019, some of the independence movement's main political leaders were convicted of sedition, with prison sentences ranging from 9 to 13 years. Sánchez is currently studying petitions for presidential pardons, but it's unclear when a decision will be made.
Still, pro-independence activists have repeatedly dismissed pardons as a true solution to the political conflict, as they would only benefit the nine leaders in prison, leaving out hundreds of activists and politicians — including those who fled the country to avoid prosecution like former Catalan president Carles Puigdemont, exiled in Belgium and signing the letter himself as a member of the European Parliament.
Last March, Spain's Congress bureau dismissed the amnesty bill filed by pro-independence parties that called for a general pardon for "3,000 victims of reprisals".