Cabinet approves 2023 budget, month-long parliamentary procedure to follow
Pro-independence opposition Junts to vote against, with unionist Socialists involved in governance for first time in decade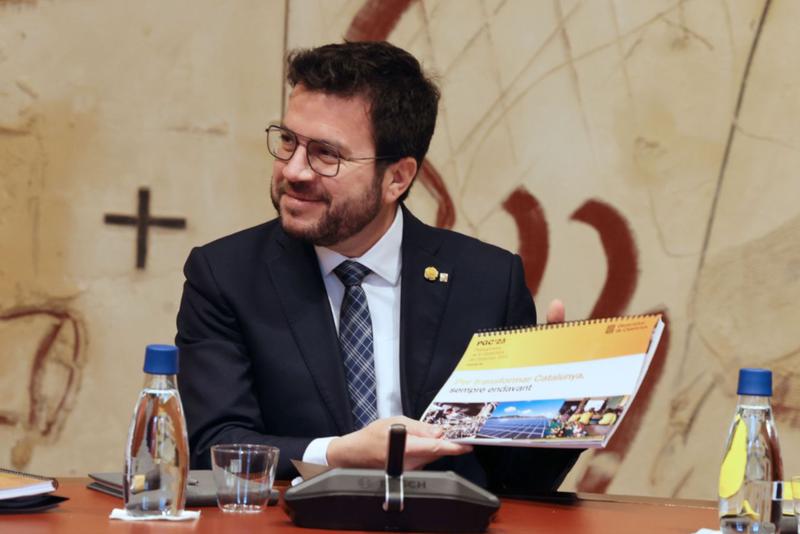 The Catalan government approved the 2023 budget deal on Thursday morning after an extraordinary cabinet meeting in the executive headquarters. The greenlight arrived after governing party Esquerra Republicana signed a deal with the Socialists on Wednesday.
The all-time high-spending plan of €41 billion, which economy minister Natàlia Mas Guix described as proof "years of budget cuts have come to an end," is set to come into effect in March and aims to "modernize" the Barcelona airport, increase health spending, and promote renewables.
Mas Guix, who spoke to the press and civil society representatives after the cabinet meeting, praised the budget for solidifying the "highest annual increase in 17 years." Unlike other years, where the annual budget has gone up around 4% or 5%, in 2023 it will see a 10.7% increase without counting the EU's Next Generation Covid recovery funds.
"This is a budget that opens the door to the recovery of social rights and invests in infrastructure," said Camil Ros of the UGT Catalunya trade union.
A parliamentary procedure that should last over a month will now begin – yet, a majority is guaranteed.
However, before it is voted by lawmakers in mid-March, other political parties can still back the deal, including former coalition partner and pro-independence party Junts per Catalunya.
"It is absolutely desirable" that Junts supports the spending plan, as "it is a clear opportunity to show that everyone has Catalonia in mind," Catalan president Pere Aragonès said during a press conference before the cabinet meeting on Thursday.
Indeed, he pointed out that the pillars of this law were set by Junts, the party in charge of the economy ministry before they quit the government.
Unionists involved in Catalonia's governance for first time in a decade
Yet, so far the pro-independence party now in opposition said also on Thursday that they will vote against the spending plan if no amendments of their group are accepted.
Its secretary general, Jordi Turull, talked about a "new era" in Catalan politics during an interview with Catalunya Ràdio station.
Indeed, the Socialists, a unionist party, have not been involved in Catalonia's governance for over a decade, ever since the independence push began in the early 2010s.