Junior partner Junts leaves Catalan government
55.73% of members vote to exit cabinet while only 42.39% chose to remain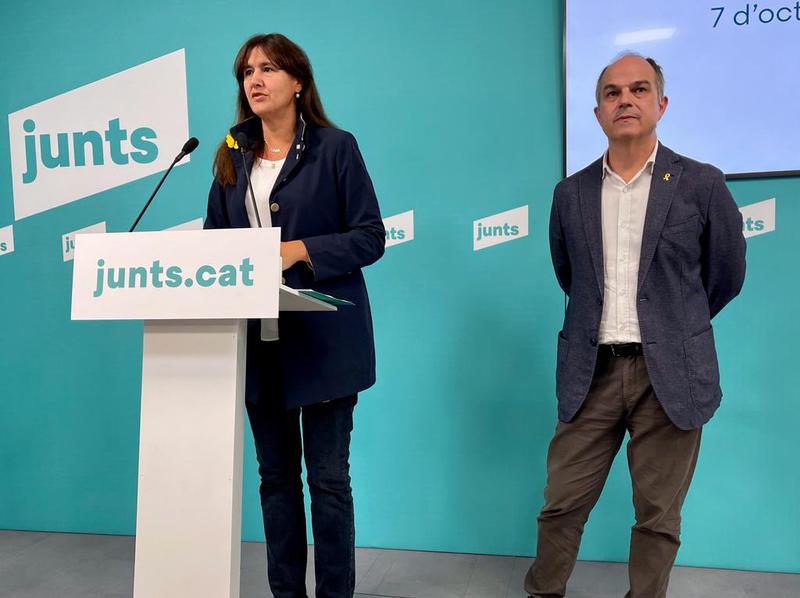 Junior partner Junts per Catalunya's leadership has confirmed it will be leaving the Catalan government after a majority of members voted to exit the coalition cabinet.
"Junts is winning while president Aragonès is losing because we trusted he could lead a coalition government and that has not been the case," Laura Borràs, the president of the hardline pro-independence party, said in a press conference on Friday evening after assessing the results of the vote.
"We've asked our members what they want, maybe Aragonès should be asking parliament too," she said, prompting speculation of a possible vote of no confidence against the head of Esquerra, a more moderate pro-independence party that has prioritized dialogue with Spain over Junts' direct confrontation.
Borràs also called the cabinet her party decided to leave after forming it under a year and a half earlier "a failed government that has lost democratic legitimacy, has prioritized deals with Spain's governing Socialists, and whose proposals have not benefited Catalonia's citizens."
"We will be ready to take action for the independence movement," a visibly fatigued Jordi Turull, the party's secretary general, said.
Junts cabinet ministers have already begun offering their resignations.
Junts' internal vote
Amid a deep crisis of confidence among coalition partners Esquerra Republicana and Junts per Catalunya, 55.73% of Junts members have opted to exit the cabinet, while only 42.39% chose to remain in the shared executive.
Only 1.88% of votes were blank, while participation in the internal consultation was 79.18% of the 6,465 eligible voters - people who have been official party members for at least six months.
In an online vote, party members were asked, 'Do you want Junts to continue being part of the current Catalan government?' Three options to respond were given: 'Yes', 'No', or blank vote.
The current crisis began last week, when the Catalan president, Pere Aragonès, of the senior coalition partner Esquerra Republicana, fired his vice president, Junts' Jordi Puigneró as his number two after a day of crisis talks both within and between the two parties. The president took this decision citing a loss of confidence in his second-in-command in the cabinet after Junts suggested a motion of confidence in the head of government on Tuesday night during the general policy debate.
Junts then set Aragonès a deadline of Sunday to reach an agreement on the conditions to stay in the executive, but at the same time announced an internal vote for this Thursday and Friday where their members will be asked whether or not they should stay in the coalition or leave.
The three main topics of the investiture agreement Junts wanted to see Esquerra follow are forming a joint strategy towards independence, focusing the negotiation table with the Spanish government on amnesty and self-determination, and coordinating what is voted in the congress in Madrid to the interests of the Catalan executive.
A fourth topic required is for the Council for the Republic (Consell per la República), Puigdemont's private organization, to lead the independence strategy, which Aragonès rejected as the council cannot have more power than the Catalan government.
Leadership divided
Junts leadership was divided over whether or not to stay in the government with ERC, with some senior members pushing for a 'No' vote, but a majority of ministers backing 'Yes.'
For instance, party president Laura Borràs, who was suspended as parliament speaker as she faces corruption charges, sided in favor of breaking the coalition.
Carles Puigdemont, founder of the party and former president of Catalonia during the 2017 independence push, did not explicitly state his opinion, but most of his closest confidants within the party were in favor of leaving, while he also retweeted an article from party vice president Josep Rius on digital newspaper El Punt Avui titled, 'Yes to Junts, yes to independence, no to this government,' which strongly hinted at his own position.
Other senior figures among the party that opted for leaving the executive included fired vice president Jordi Puigneró, exiled MEP Toni Comín, current research and universities minister Gemma Geis, Girona mayor Marta Madrenas, as well as Albert Batet, Joan Canadell, and Jaume Alonso-Cuevillas.
Other senior party members who had positioned themselves on the side of remaining in government were former jailed independence leaders Quim Forn and Jordi Sànchez, former interior minister Miquel Buch, Barcelona port president Damià Calvet, former Barcelona mayor Xavier Trias, Barcelona councilor Neus Munté, and MP David Saldoni.
Secretary general Jordi Turull avoided taking sides.