Belgium Court of Appeals orders repeat of rapper Valtònyc's extradition trial
Artist wanted in Spain had won initial case to avoid serving 3.5-year prison sentence for content of lyrics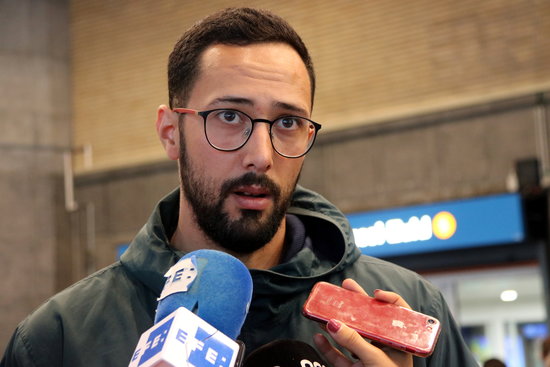 The appeals court in Belgium has ordered the repetition of Mallorcan rapper Valtònyc's extradition trial.
Valtònyc was convicted to a 3.5-year prison sentence in 2018 for glorifying terrorism, threats, and insulting the monarchy for some of his lyrics. He left Spain in order to avoid being imprisoned, pledging to "not make it easy" for Spanish authorities to incarcerate him.
On December 28, 2021, the Ghent appeals court turned down Spain's latest attempt at having the rapper returned to Spanish territory to serve his sentence — a ruling that was then challenged by the Belgian public prosecutor's office.
Tuesday's decision requires the Ghent Appellate Court to review their sentencing and "to adapt it only to 'lèse-majesté' (defamation against the crown) charges," Gonzalo Boye, Valtònyc's lawyer, tweeted on Tuesday.
Corte de Casación caso @valtonyc dedestima el recurso de Fiscalia de Gante por los delitos de enaltecimiento del terrorismo y amenazas, ordena devolver la causa al Tribunal de Apelaciones de Gante para que reformule su decisión solo por el delito de injurias a la Corona

— Gonzalo Boye (@boye_g) January 18, 2022
The Ghent Appellate Court, handling Spain's extradition request, asked the Belgian Constitutional Court over a year ago if Valtònyc's case was covered by freedom of expression.
The country's first extradition request was rejected by a district court in September 2018, after which the Ghent Appellate Court asked the Court of Justice of the European Union if Valtònyc could be extradited for glorifying terrorism - they responded that he could not.
As a result of the Catalan-language rapper's case, the Belgian Constitutional Court struck down the country's own law against slander to the monarchy in October 2021.
According to the court, the 1847 law, which allows for up to three-year sentences for insulting the royal family, violates the right to freedom of expression as well as the European Convention on Human Rights.
"We have won and Belgium has removed lèse majesté from the criminal code," he celebrated in a tweet at the time.