'An absolute disgrace': Right-wing unionists react to Torra – Sánchez meeting
Ciutadans say Sánchez should meet them instead while PP call Torra "a separatist activist"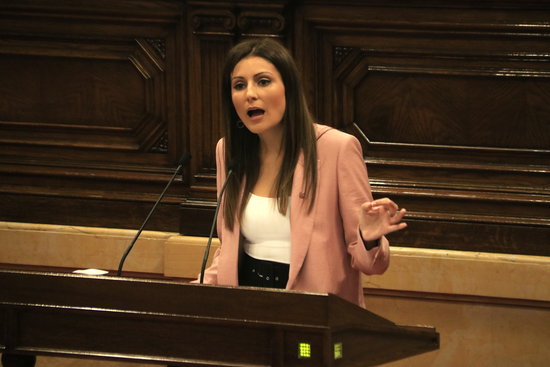 Right-wing unionist parties have criticized Spanish president Pedro Sánchez for meeting Catalan president Quim Torra in Barcelona on Thursday.
As the presidents' meeting got underway at the Palau de la Generalitat, the Ciutadans spokesperson Lorena Roldán called it "an absolute disgrace" in an address to media gathered in parliament.
Unleashing a barrage of criticism against Torra, Roldán said he "no longer represented Catalans" and was "dedicated to attacking the rule of law" and called for the Catalan president to "go home". As Torra was stripped of his MP status, "common sense" dictated that he also could not be president, she added.
Referring to Torra's sentencing, pending appeal, over pro-independence banners, Roldán urged Sánchez to "comply with court rulings" and not meet with someone who has been convicted. Instead, she suggested the leader of the Spanish government should meet with her own party Ciutadans, "the leaders of the opposition and the largest party in the Catalan parliament."
Following on from the People's Party's announcement that they were filing a lawsuit against Torra for impersonation of a public officer, Roldán said that Ciutadans, similarly, were going to investigate "all legal actions" against the Catalan president.
"A Separatist Activist"
The People's Party, for their part, said that Sánchez wasn't meeting the President of the Generalitat, but a "separatist activist". PP MP Santi Rodríguez said he was very "skeptical" of the encounter, and that the agenda would consist of the demands of the independence movement: amnesty and self-determination.
Rodríguez added that he believed that for ordinary Catalans, the meeting was "irrelevant" and that is why there were no street protests against Sánchez's visit as during his previous visit.