Catalan president greets Spanish and French leaders but leaves before national anthems
Spain-France summit held in Barcelona while independence supporters protest outside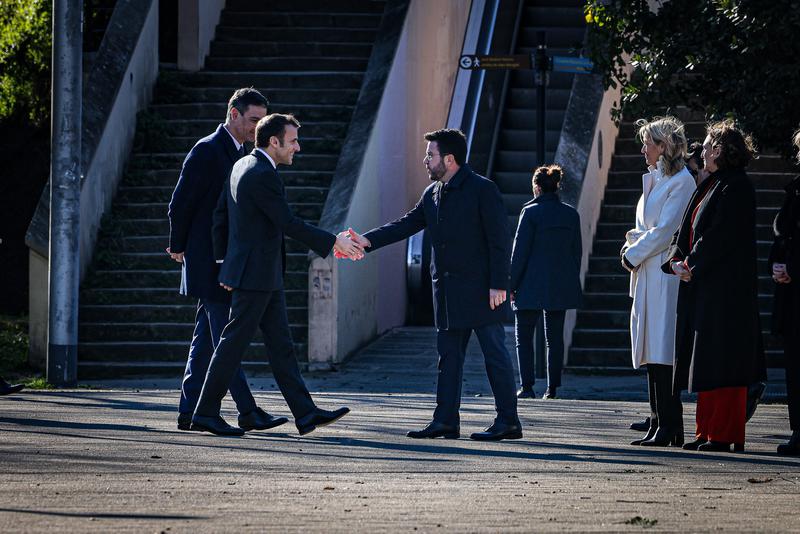 A Treaty of Friendship between Spain and France will be signed on Thursday at the National Art Museum of Catalonia (MNAC), in Barcelona, during a meeting between Spanish Prime Minister Pedro Sánchez and French President Emmanuel Macron.
Expectations are high as today will mark the first friendship treaty between the two countries, with over 250 journalists accredited to cover the summit.
The summit began at around 11.15am, shortly after Macron arrived at MNAC.
Pedro Sánchez, along with the Catalan president, Pere Aragonès, and Barcelona mayor, Ada Colau, greeted Macron in the parking lot outside the museum.
Catalan president briefly talks to Macron and Sánchez
Catalan presidential sources explained that Aragonès thanked Macron for the visit and for the warm relationship between both institutions.
He also told the French head of state that Catalonia wants to be a European ally.
Macron arrived in Barcelona with a 30-minute delay, which prompted a brief private conversation between Aragonès and Sánchez while waiting.
According to Aragonès's office, the Catalan leader told the Spanish executive that the independence push is not over – ministers in Madrid said recently that it is now all over, following a cooling of tensions seen during 2017 and 2019, as well as the reformation of the crime of sedition, for which many of the referendum leaders were convicted.
Aragonès avoids observing Spanish and French anthems
After the greetings, Sánchez and Macron took part in a short event, featuring their countries' national anthems, while they inspected the around 100 Spanish troops on the site.
Yet, Pere Aragonès avoided observing the Spanish and French anthems and left shortly after shaking hands and briefly speaking with Macron.
A bilateral meeting between the leaders of Spain and France began at around 11.30am and, in parallel, bilateral meetings between ministers also took place. After these meetings, a joint gathering between both administrations began with one-hour delay in MNAC's Dome room, just in front of one of Catalan painter Joan Miró piecies.
Catalan president Pere Aragonès spoke to the media after greeting Sánchez and Macron, and he reiterated his stance that the independence push is not over, despite claiming that "some have tried to use today's summit as a way of giving the impression that the political conflict between Spain and Catalonia is resolved, that it no longer exists."
Pro-independence demonstration outside summit
As the meetings were due to take place, around 6,500 pro-independence supporters, according to the local police, demonstrated outside in the morning.
The rally aims to show that Catalonia's independence push "is not over," in contrast to what the Spanish government has been reiterating these last few days.
Over 30 pro-independence groups have joined the demonstration under the motto "Nothing is over. Independence, Catalan countries, and an end to repression." Among these organizations are civic groups and political parties, such as Junts, far-left CUP, and governing party Esquerra Republicana (ERC).
While his party is protesting outside, ERC's leader and the current Catalan president, Pere Aragonès, attended the welcome hand-shake between Sánchez, Macron, and local authorities.
Oriol Junqueras, president of Esquerra, left the rally after being whistled at and accused of being a "traitor" by some protestors. His party said that he had another engagement to attend at 10am.
Pere Aragonès, also of Esquerra, praised the "purposeful, positive, and self-affirming attitude" of the protesters, and said that "this is what needs to be recognized, and not minority expressions that don't represent the whole of the independence camp."
Reopening land borders
While the main act is signing the friendship treaty, politicians are also focusing on other matters affecting the two countries.
One of the main requests from the Spanish authorities is the reopening of land borders – indeed, this request was recently pointed out by letter by the Catalan president and Aragonès insisted on this issue during his brief private chat with Sánchez. Currently, eight out of 38 of these crossings are closed. French officials started closing them during the pandemic and because of the high terrorist alert in the country. The will to reopen them has been quite persistent on the Spanish side.
French sources claim that, out of this summit, a potential reopening schedule could be drafted if the two governments reach a deal regarding a mixed police patrol operation.
Energy is also one of the main topics at the summit, as Barcelona will be home to the starting point of the H2Med green energy pipeline project. However, sources from the Spanish executive said that the political decisions have already been made. It is now in the hands of technical teams, so no announcements are expected.
Macron is traveling with nine ministers, while Sánchez is accompanied by three vice presidents and another seven ministers.