Independence push 'not over': 30 groups join rally against Spain-France summit
Organizations claim meeting is a "provocation" and urge Catalan president not to attend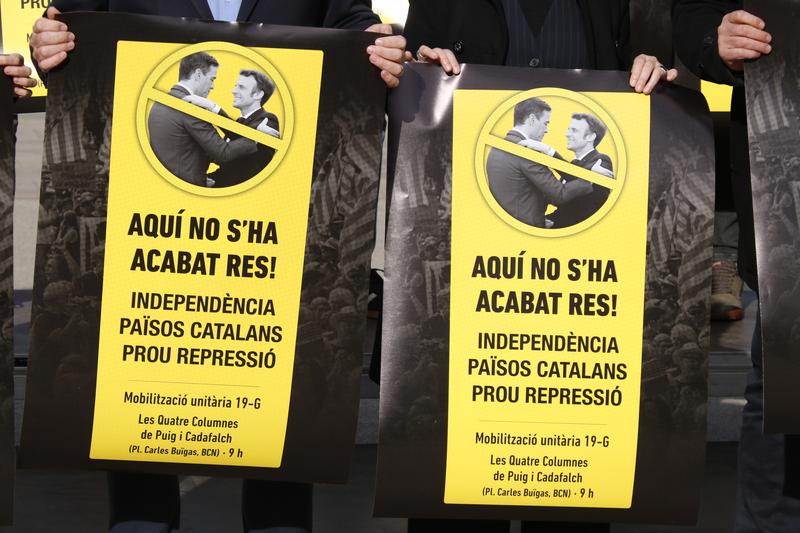 Over 30 groups will join the rally against the Spain-France summit set for January 19 in Barcelona under the motto, "Nothing is over. Independence, Catalan countries, and an end to repression."
The meeting between Spanish PM Pedro Sánchez, French president Emmanuel Macron, and Catalan president Pere Aragonès will be held in the Catalan National Art Museum (MNAC).
But for rally organizers, this summit is a "provocation" and "an invasion," as the Spanish government is only coming to the Catalan capital "to show that Catalonia is part of Spain and that the independence push has ended," Dolors Feliu, president of the Catalan National Assembly (ANC) said during a press conference on Friday in front of the MNAC.
Besides ANC, other groups joining the rally include Òmnium Cultural and Consell de la República, an association pushing for a Catalan republic led by former president Carles Puigdemont. Political parties such as pro-independence Esquerra Republicana de Catalunya, Junts, and far-left CUP will also protest.
The demonstration will start at 9 am in front of the 'Quatre Columnes' monument, four large columns by Catalan architect Josep Puig i Cadafalch at the foot of Montjuïc's hill and just in front of the MNAC.
"The Spanish and the French governments come [to Barcelona] to do an act of domination, as they take decisions claiming they affect Catalonia but only based on a national perspective," Feliu said.
While Esquerra (ERC) will protest outside the venue, their leader Pere Aragonès will attend the summit as the Catalan president. "It is completely contradictory," Dolors Feliu said about the matter before calling for the politician not to be part of the meeting.
'Massive' protest
Organizers hope the protest will be "massive", and Xavier Antich, president of Òmnium Cultural, is calling for everyone to participate in the demonstration for their "dignity."
"The political conflict is alive," even if the Spanish government "pretends that the international community believes nothing is happening here," Antich added before saying that "there will not be any normality while they violate fundamental rights."
Asked whether it will be possible to demonstrate as close to the MNAC as possible during the summit, Antoni Castellà, member of the Consell de la República association, said, "if the security detail with the MNAC is this big, they would be censoring the right to protest."
Spanish government: demonstration 'not relevant'
While the demonstrators hope for the "massive" protest to have an impact, the Spanish government does not believe the rally will be "relevant," Maria Eugènia Gay, the executive's delegate in Catalonia, said on Friday.
During a press conference, Gay also defended the role Aragonès will have as "the same one" other presidents have had in similar summits, to take part in the welcoming handshake.