A look back at the last three mass demonstrations on Catalonia's National Day
Since 2012, the demonstrations on Catalonia's National Day, on the 11th of September, have grown exponentially. Nearly two million pro-independence supporters have shown their demands regarding Catalonia's political future at each of the different manifestations that have filled the streets of Barcelona and towns all over the territory. Two organisations, Òmnium Cultural, which is a civil society organisation promoting Catalan culture and language, and the Catalan National Assembly (ANC), a grassroots association demanding Catalonia's independence from Spain, have played a key role in turning these three demonstrations into massive, historic rallies.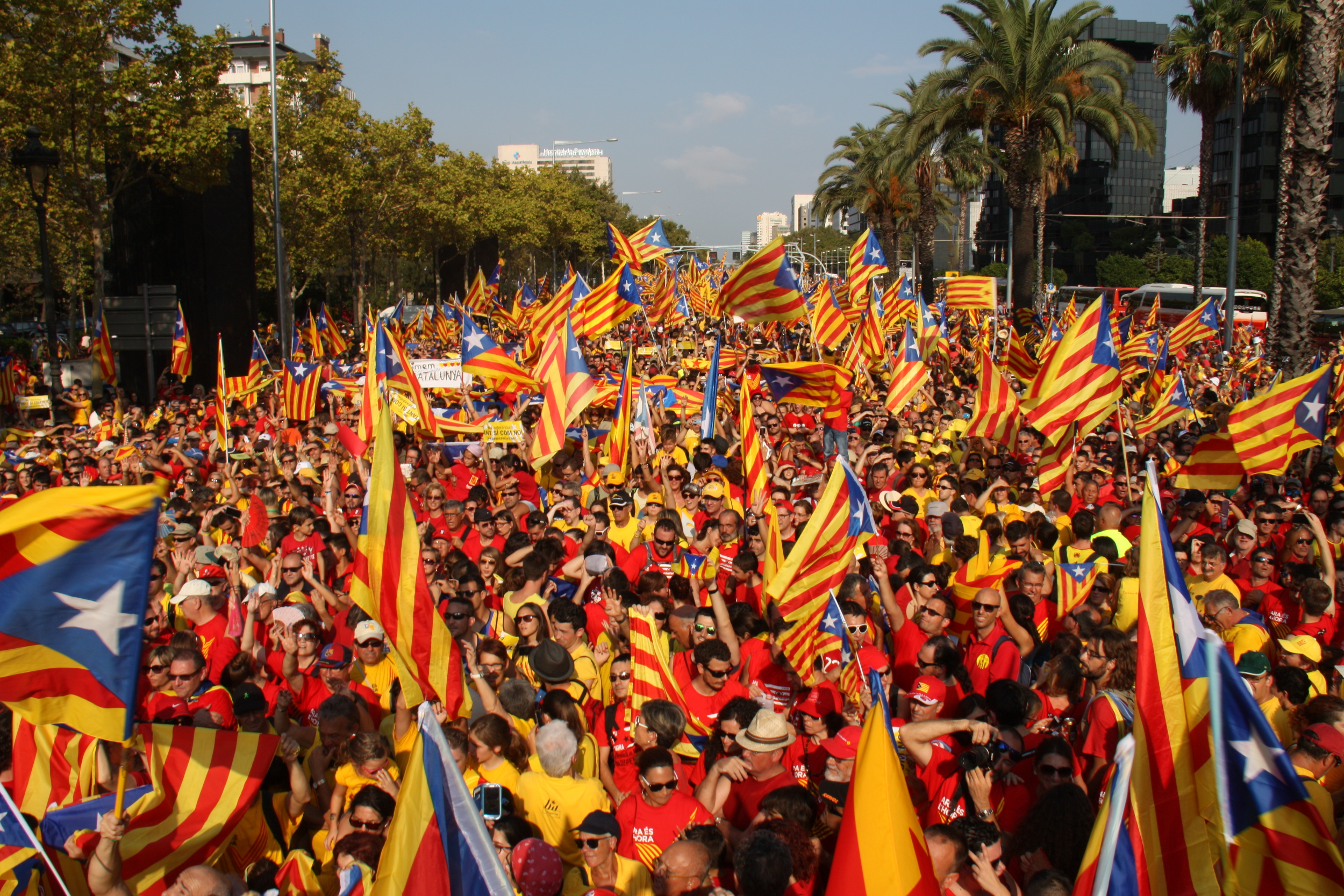 Barcelona (CNA).- The last three Catalonia's National Day commemorations, held on the 11th of September, have marked a turning point in recent history. Traditionally, solemn acts and flower offerings in every town commemorated Catalonia's defeat on 1714, an historic milestone that meant the loss of its sovereignty, its self-government, its Constitution and its freedoms to an absolute king whose repression policies continued up until the 1970s. However, since 2012, mass demonstrations have been added to the commemorations of this historical day and have become known worldwide as rallies that measure Catalans' feelings and political demands.
Each year during these big demonstrations, in 2012, 2013 and 2014, nearly 2 million Catalans expressed their will to vote and made clear their demands regarding Catalonia's political future. Pro-independence support has grown exponentially due to the disagreement of a representative part of Catalan society with the Spanish Government's policies regarding self-government, low levels of investment in Catalonia and the repressive attitude towards Catalan language and culture.
After each of these rallies, Catalan society has stated the future steps they want the Catalan government to take in order to walk firmly towards independence from Spain. These demands have marked Catalonia's political agenda since the first big demonstration on the 11th of September 2012.
Òmnium Cultural and ANC: The power to mobilise Catalan society
Two civil society organisations are essential to understanding this process: Òmnium Cultural and the Catalan National Assembly (ANC). Òmnium Cultural is a civil society organisation promoting Catalan culture that was founded during Franco's dictatorship. The ANC is a much more recent organisation that seeks the political independence of Catalonia from Spain through the establishment of a free and democratic state. ANC was born shortly before the big pro-independence demonstration on the 11th of September 2012 and quickly showed its ability to mobilise large and diverse sectors of society.
Òmnium Cultural and ANC have played a key role in involving citizens in these demonstrations and gathering together people from different levels of society, overcoming social and political differences.
2012: The largest demonstration ever seen in Catalonia
2012 was the beginning of this new wave of massive rallies on Catalonia's National Day. On the 11th of September of that year, 1.5 million people demonstrated peacefully for Catalonia's independence from Spain and asked to finally start the secession process. Walking behind a banner which read "Catalonia, Europe's new state", 1.5 million people marched through the Catalan capital's downtown area and filled the city centre, with the entire Passeig de Gràcia Boulevard and adjacent streets packed with people and Catalan flags, in the largest demonstration ever seen in Barcelona. The massive demonstration formed a 3.1-kilometre-long crowd and was without a doubt the largest crowd ever assembled in the Catalan capital, with more participants than 2003's demonstration against the Iraq War and that of 2000 condemning the assassination of Ernest Lluch by ETA.
This was the first real test for the organisers, with Òmnimum Cultural clearly showing their ability to mobilise large and diverse sectors of society. Both organisations started a global process towards independence on that day.
Many Catalan celebrities such as writers, actors, musicians and university heads participated in the demonstration for independence from Spain. In addition, many civil society organisations also participated, including the main trade unions, UGT and CCOO. In addition, most of the main Catalan politicians were also present.
2013: A 400-km-long human chain inspired by the 'Baltic Way'
In 2013, 1.6 million people joined the 'Catalan Way towards independence', a 400-km-long human chain stretching across Catalonia inspired by 1989's 'Baltic Way'. Some 500,000 citizens joined hands in the city of Barcelona alone, with a total of 1.6 million Catalans participating in the rally, a colossal 400-kilometre-long uninterrupted human chain connecting the territory from North to South. The Catalan Home Affairs Minister, Ramon Espadaler, emphasised "the difficulties" in calculating such a figure but stated that 1.6 million "would be the lowest estimate". This means it is the largest demonstration that has ever taken place in Catalonia. The Catalan Government's Spokesperson, Francesc Homs, stated that "very few noble causes, such as the freedom of a people, could gather so much support at world level". Hundreds of thousands of Catalans travelled across the country to demonstrate in one of the 788 stretches into which the organisers had split the 'Catalan Way'. For a few hours, Catalonia in its entirety was literally paralysed by the massive demonstration. After the rally, the Catalan President sent a message to the Spanish Government: "it is about time that the Spanish State authorities – since we are now in a democracy – listen to the voice of Catalonia's people and respect their will to decide on their own future".
The 'Catalan Way towards independence' has been "a great success" stated the Chairperson of the ANC, Carme Forcadell, in front of a cheering crowd in central Barcelona. The ANC is a grassroots organisation – formed of several regional groups – which organised both 2012's 1.5 million-strong demonstration and 2013's human chain. Forcadell was visibly moved by the huge participation that built on the previous year's event. The ANC also highlighted how a "great logistical challenge" had been overcome with such success. Concluding the 'Catalan Way towards independence', Carme Forcadell stated in front of the crowd that a self-determination referendum was to be held in 2014 and not at a later stage. "In front of historical actions, historical decisions need to be made" she emphasised referring to the 1.6 million people, 400-km-long human chain. She asked the President of the Catalan Government to call for an independence vote as "a commitment to the Catalan people" and to "act according to its results". In addition, she added that the question has to be a clear and single one, to which citizens can respond with either "yes" or "no" in order to obtain "a clear answer". Forcadell stated that "any democratic and peaceful means" should be used to ask the citizens what they want for their collective future. According to the ANC Chairperson, Catalonia was at "an historical crossroads" that had "two possible paths", "either to yield to Spanish State centralism and disappear as a people, or to gain independence".
Most of the Catalan Government Ministers took part in the 'Catalan Way towards independence', as well as the Mayor of Barcelona, Xavier Trias, and many other elected officials. However, the President of Catalonia, Artur Mas, and the Chairperson of the Catalan Parliament, Núria de Gispert stated they could not participate because of their institutional positions as the country's two main public figures. Despite this fact, they both gave their personal support to the peaceful and festive demonstration that was univocally asking for the independence from Spain. They both emphasised that Catalonia was sending a message to the international community with this demonstration.
The 'Catalan Way' was inspired by the 'Baltic Way', which was a human chain formed in 1989 and which spanned the length of Estonia, Latvia and Lithuania. It called for the independence of the three Baltic States from the USSR, which was later achieved in 1991. Indeed, organisers of that demonstration also gave their support to the 'Catalan Way'.
2014: A record 1.8 million people support the 9th of November independence vote
Last year, pro-independence supporters created a colossal demonstration once again, unique at European level, to demand the right to hold a self-determination vote. 1.8 million participants of all ages and social origins, from all over Catalonia, formed a V-shaped mosaic displaying the Catalan flag along Barcelona's two main avenues to symbolise 'Vote', 'Victory' and 'Will', all three of which start with a 'V' in Catalan. The rally induced strong support for the 9th of November consultation vote that had been agreed by a two-third majority of the Catalan Parliament. In the vertex of the V-shaped rally, fully organised by civil society organisations, where the avenues cross each other, a stage decorated with columns of ballot boxes had been set up; one ballot box for each of the 947 Catalan municipalities. "On the 9th of November we will vote. On the 9th of November we will win" read the demonstration's main banner. Carme Forcadell, President of the grassroots ANC, which co-organised the rally, demanded that the President of the Catalan Government, Artur Mas, "put out the ballot boxes" in November.
At 17.14, commemorating the year Catalonia lost its sovereignty and freedoms, a girl who will turn 16 on the voting day and will therefore be allowed to cast her vote, symbolically put a ballot into a box. Once again, supporters of Catalonia's independence showed their will to hold a free and democratic vote on independence from Spain and peacefully demonstrated in a festive mood.
In order to guarantee the completion of all the 73 stretches into which the route was divided, participants were encouraged to register online, as they did for the 2013 demonstration. Following instructions from the organisers, they were wearing red or yellow t-shirts and formed the red and yellow stripes of the Catalan flag over some 11 kilometres. Catalan Police confirmed that no violent episodes took place and that the massive demonstration went off peacefully.
7,000 volunteers guaranteed the proper formation of the mosaic, and more than 1,500 busses brought participants to Barcelona from all corners of Catalonia. Furthermore, Barcelona's public transportation and short-distance train services were strengthened, with extra buses and trains being put on to handle the enormous number of passengers.