1,200 pro-independence supporters gather in Barcelona to urge parties to form government
Catalan National Assembly warns ERC and Junts: "we will no longer be by your side" if disagreement leads to fresh elections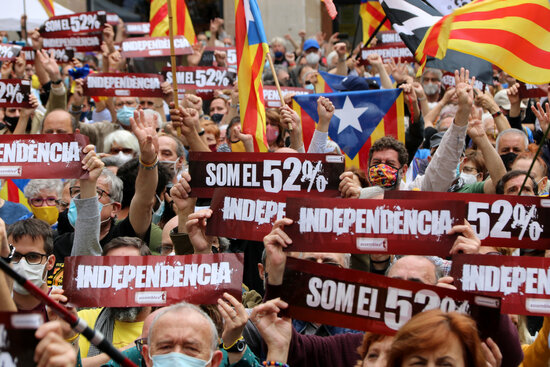 More than 1,200 people gathered in Plaça Sant Jaume in the center of Barcelona on Sunday to demand that political parties form a "clearly" pro-independence government, in line with the 52% of votes won by the bloc in February's election.
The event was organized by the Catalan National Assembly (ANC), whose leader Elisenda Paluzie issued an 'ultimatum' to Esquerra (ERC) and Junts per Catalunya: "If you lead us to new elections or form another government with no plan to move forward, the Assembly will no longer be by your side."
"We have lost patience and confidence," ANC vice president David Fernández told the packed square, amid continuous cries of "unity" and "enough is enough."
The president of the Barcelona of Chamber of Commerce, Mònica Roca, also made an appearance, calling for a "determined, cohesive, strong and stable" government in order to lead the post-Covid economic recovery. She also spoke in favor of a pro-independence executive, saying that there are many studies that support the economic viability of an independent Catalonia.
Government formation talks enter fourth month
Political parties are now entering the fourth month of government formation talks following the Catalan election on February 14.
Negotiations between pro-independence ERC and left-wing En Comú Podem (ECP) broke down on Thursday as the latter does not want Junts per Catalunya to form part of the new executive.
That followed the three pro-independence parties, Esquerra, Junts per Catalunya and CUP, coming to an agreement on Wednesday to 'find a way out' of the deadlock and avoid another snap election.
Parliament has until May 26 to elect a new head of government.