PODCAST: Catalan cuisine – superstar chefs and Michelin-starred restaurants
A celebration of Catalonia's rich and innovative gourmet culture with Carme Ruscalleda, Jordi Vilà and Cuina magazine's Judith Càlix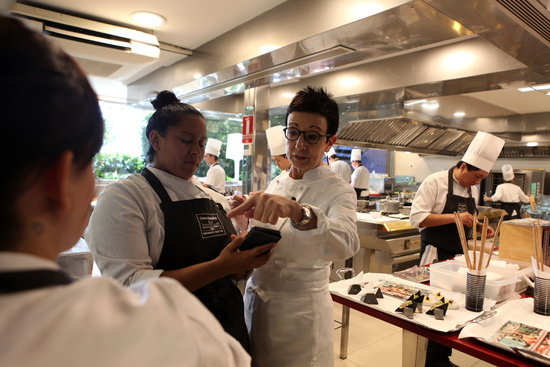 On today's menu, a mouthwatering starter in the form of an interview with Carme Ruscalleda, a passionate, virtuoso chef who has been awarded seven Michelin stars across three restaurants in Catalonia and Japan. Press play below to listen or subscribe on Apple Podcasts, Google Podcasts or Spotify.
For the main course, Judith Càlix from Cuina, Catalonia's favorite foodie magazine, on 20 years of food revolution and five young chefs to check out right now.
And for dessert, a visit to Alkimia in Barcelona, to hear head chef Jordi Vilà's take on the philosophy and business of running a Michelin-starred restaurant.
Your maître d' is Lorcan Doherty and Alan Ruiz Terol serves up the palate cleansers.
This week's Catalan phrase is 'a la taula i al llit, al primer crit', literally 'to the table and to bed on the first shout', it means you should go to eat or sleep straight away when you're called.
The five young chefs recommended by Judith Càlix are Arnau Muñío, Eli Nolla, Joseba Cruz, Arnau Bosch and Martina Puigvert. More information on Cuina's website.
Listen to more episodes of Filling the Sink below.