Vaccination for over 80s expected to begin next week
Non-medical essential workers such as pharmacists and physiotherapists already being given AstraZeneca dose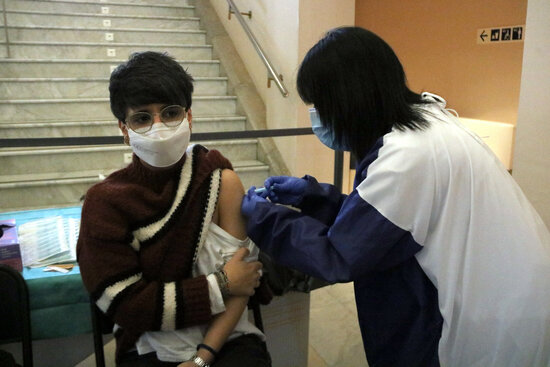 The Covid-19 vaccination rollout scheme will reach a new milestone next week with over 80s living at home receiving their first doses.
These are the plans of the Catalan health department expressed by minister Alba Vergés on Tuesday evening.
Those over 80 would be given either the Pfizer-BioNTech or the Moderna jabs – the Spanish public health committee set the maximum age for receiving the AstraZeneca one at 55.
Yet, authorities warn that the plans are subject to the successful delivery of the doses expected and also to efficient logistics to administer them.
Phase 1 of the vaccination plan is still ongoing, with health professionals, care home residents and staff receiving their doses – and, while it is expected to end in late March, Phase 2 has already begun this week.
This includes essential workers and 1.8 million identified at-risk people, including the over 80s – the third and last phase includes all residents and is aimed to begin in June.
Speech therapists and psychologists among first in the list
On Tuesday, AstraZeneca vaccinations began with the first doses to essential workers, including pharmacists, speech therapists, psychologists and physiotherapists.
The first vaccines of the scheme's second phase were given in Casal de Gent Gran Joan Casanellas seniors' centre, in Barcelona.
Other occupations prioritized in this phase also include firefighters, police, civil protection workers, and prison guards.
Several days after Catalonia made the move to begin phase 2 with AstraZeneca's vaccine, Spain's public health committee also made a similar decision on Tuesday.
Physiotherapists, occupational therapists, staff working in pharmacies, legal medical services, in-home care workers, and staff in day-cares and youth care centres are included in this group, as well as law enforcement, the army, emergency services and prison workers.
Vaccinations six months after passing Covid-19
Yet on Wednesday, Spain gave the recommendation to regional governments not to use AstraZeneca doses to those under 55 who have already had Covid-19 in this stage. They say vaccinations have to take place at least six months after transmission.
Spain's health ministry added that if a person under 55 is infected between the first and the second dose, the second one also has to be delayed by 6 months.