Covid-19 vaccinations for essential workers to begin this week
Firefighters, police officers, civil protection staff and prison guards among first non-sanitary workers to be given jab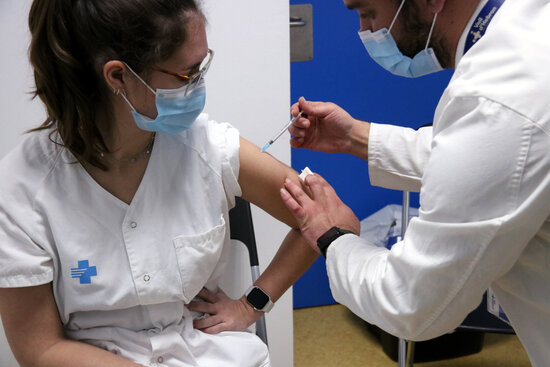 The Covid-19 vaccination plan progresses, with phase 2 beginning on Tuesday which will see essential workers receive the jab. Phase 1, meanwhile, is still ongoing, with health professionals, care home residents, and staff receiving their doses.
The health minister, Alba Vergés, explained on Monday that 31,800 doses of the AstraZeneca vaccine have been delivered, and as it cannot be used on elderly people, employees of basic services will begin to have it administered.
On Friday, the Spanish Public Health Committee set the maximum age for receiving the AstraZeneca jab at 55. This means that over-55s in Spain have to be given one of the other vaccines authorized for use in the European Union.
Vergés said on Monday that the vaccination of health workers will speed up from this week, and other jobs such as "firefighters, police, civil protection and prison workers" will begin to receive it, as well as pharmacists and physiotherapists.
The first AstraZeneca vaccines will be given on Tuesday afternoon.
Easing of Covid-19 measures
This comes as the slight loosening of the restrictions came into effect on Monday.
"We have been able to introduce these new measures because the epidemic curve is bending," said the health department secretary general, Marc Ramentol.
"The measures will help us give some air to sectors that have suffered the worst part of them for weeks. But this cannot be interpreted as a relaxation," he added, reminding that a major impact of the UK strain could still yet to be felt.
The government believes that the British variant stands for 17% of the new cases declared already.
Bars and restaurants have been allowed to extend breakfast and lunchtime opening hours by one hour, the municipal lockdown was extended to the county level, whilst book shops have been included in cultural activities, allowing them to open at weekends. Gyms can now open at 30% capacity.
Authorities hope that the vaccine rollout will help keep figures on their steady fall, as a new vaccination plan was announced on Friday, with Alba Vergés, health minister, announcing that the system was ready for 150,000 daily doses.